Another company is in hot water after allegations of illegal hazardous waste disposal.
Authorities recently announced that DISH Network California Service Corporation has entered into a settlement for the illegal disposal and mismanagement of hazardous waste.
California Attorney General Rob Bonta and Alameda County District Attorney Nancy O'Malley announced that as part of the settlement, DISH must pay $5.5 million in penalties, costs and supplemental environmental projects. The company must also make significant changes to its operations and practices in order to comply with state laws.
DISH is one of several companies that have come under fire for their alleged illegal disposal of hazardous waste recently. In March, Pick-N-Pull, which purchases end-of-life vehicles and sells the parts, agreed to pay a $2.5 million settlement after allegedly disposing of hazardous waste illegally. Other companies that have faced substantial fines this year include Copart and Firestone.
If your company generates hazardous waste of any kind, it's critical to avoid the same fate at these companies. Improper waste management can lead to multi-million dollar fines and a black eye in public image. Here's what you need to know about the case against DISH and what you can do to avoid the same outcome.
The Case Against DISH
As a company that provides satellite video services to residential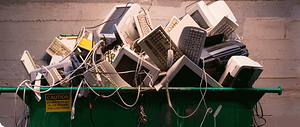 and business customers, DISH manages large volumes of electronic equipment. This equipment often falls under a type of hazardous waste called electronic waste.
What is electronic waste? Electronic waste, or e-waste, are electronic devices that are near or at the end of their useful life. Types of e-waste include televisions, large and small appliances, computer monitors and towers, keyboards, lamps, circuit boards and power supply units.
The case against DISH focuses on the company's alleged violations of illegally disposing of hazardous waste by sending it to local landfills that were not equipped or authorized to receive it. According to the state attorney general's office, audits conducted over multiple years found that DISH repeatedly disposed of e-waste in trash bins that were taken to municipal landfills. This violated the Hazardous Waste Control Law and Unfair Competition Law, the latter of which prohibits false advertising and illegal business practices.
Hazardous Waste Disposal Violation Penalties
Penalties against companies that are found to have violated hazardous waste laws can vary. They often involve fines, but may also include requirements to rectify their waste management systems.
In the case of DISH, the company must pay $5.5 million, which includes:
$3.32 million in civil penalties
$835,500 in litigation costs
$845,000 for supplemental environmental projects
$500,000 to implement enhanced environmental compliance measures
As part of the settlement, DISH must also now hire an independent third-party auditor to perform environmental compliance audits at the company's 25 facilities across California. The company must also conduct regular inspections of facility trash dumpsters and roll-off containers to ensure that the containers do not contain hazardous waste.
Lastly, DISH must provide training to employees to ensure they remain in compliance with the state's hazardous waste laws.
Each of these penalties adds up and creates a scenario where the company must act fast to put into effect an internal waste management system that all employees understand and follow.
Yet like many companies find out the hard way, this scenario likely could have been avoided from the beginning with the help of a hazardous waste disposal company.
How A Hazardous Waste Disposal Company Can Help
The best hazardous waste disposal companies will help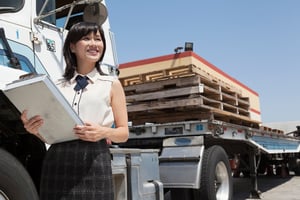 ensure that your company stays compliant, even as waste regulations evolve at the state and federal levels.
If your business generates electronic waste like DISH or any other type of hazardous waste, it is best to partner with a disposal company that can safely remove the waste and transports it for legal and proper disposal.
The best hazardous waste disposal companies will:
Identify your waste streams through profiling and testing
Develop site-specific plans that include training for your employees and emergency preparation
Handle the transport for all of your hazardous waste streams to the appropriate recycling and hazardous waste disposal sites
Prepare the manifest and other state and federal paperwork
Provide proof that your waste streams were properly disposed of
Offer to conduct a hazardous waste walk-through that takes a look at your current processes in place
If you generate hazardous waste, you are responsible for its proper disposal. This is called cradle to grave and ensures that the company responsible for the waste is held accountable if that waste is not disposed of according to the law.
A certified hazardous waste disposal company that is experienced in disposing of the type of waste you generate will make sure you meet all your cradle to grave requirements so that you can focus on running a business.