Recent alleged violations against an international environmental services company shows how improper waste management can be costly.
At the end of August, the United States and the state of Nebraska reached a settlement with Clean Harbors Environmental Services Inc. that ended with the company agreeing to pay a $790,000 civil penalty.
The company must also improve facility practices that will protect workers and the surrounding community from harmful pollutants.
How does this case impact your business? It's a good example of what can happen when improper waste management on your property can lead to other issues, such as illegal disposal, employee injuries, dangerous incidents, harmful pollution and in this case, staggering fines.
A fine of this size can be devastating, especially if your business is small or medium in size. Negative publicity from the allegations can be even more damaging. Here's what you need to know about how to ensure proper waste management, before you find your company in the headlines for the wrong reasons.
The Case Against Clean Harbors
The settlement stems from alleged violations of several important laws and regulations: the Resource Conservation and Recovery Act, the Clean Air Act, and the Emergency Planning and Community Right-to-Know Act. The violations allegedly took place at the company's commercial hazardous waste incinerator located in Kimball, Nebraska.
In addition to the Kimball plant, Clean Harbors operates more than 150 facilities in the United States and Canada. These facilities include landfills,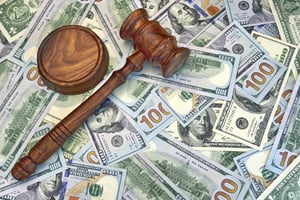 wastewater treatment facilities, and incineration and recycling centers.
The alleged violations at the Kimball plant included:
Failure to manage and contain hazardous wastes
Failure to comply with air emission limits
Failure to comply with chemical accident prevention safety requirements
Failure to timely report use of certain toxic chemicals
Under the settlement and in addition to the fine, Clean Harbors must upgrade its plans to classify, manage and contain the wastes that are incinerated at the facility, as well as update its fire prevention and response program. The company must also undergo an environmental audit at the facility to address any continuing noncompliance.
What You Should Take Away
Clean Harbors isn't the first company to be fined for improper waste management, and it won't be the last. In fact, the situation this company is facing isn't unique at all.
Earlier this year, a state investigation conducted by the California Department of Toxic Substances Control and several local environmental regulators found that CarMax facilities were violating hazardous waste laws over a six-year period between 2014 and 2020.
The car retail giant was faced with $1 million in civil penalties, as well as $300,000 in investigative costs, after the investigation found the company had improperly disposed of waste that included solvents, automotive paints and non-empty aerosol containers.
Earlier this year, the company that bottles Crystal Geyser Natural Alpine Spring Water pled guilty in U.S. District Court to unlawful storage of hazardous waste and unlawful transportation of hazardous material. This resulted in a $5 million criminal fine.
In 2013, Walmart agreed to pay more than $81 million after pleading guilty to six counts of violating the Clean Water Act.
What to know: It is your responsibility as a hazardous waste generator to ensure that your waste is disposed of properly, from the moment you generate it to the moment it is disposed of. This is called cradle to grave.
How To Ensure Your Waste Is Properly Managed
With all the regulations governing hazardous waste, it is important to make sure that you are in compliance. Working with an experienced hazardous waste disposal company can ensure your business is doing this.
But what should you look for in a hazardous waste disposal company? The best companies are certified and experienced in working with a variety of hazardous waste. A company should have extensive experience working with the particular type of waste your company generates.
Other services you should look for in a disposal company include:
The ability to identify waste streams through profiling and testing
The development of site-specific plans that include training and emergency preparation
Transportation to recycling and disposal sites
Preparation of a manifest and other state and federal paperwork.
You should also conduct a thorough background check of the vendor, which includes checking the company's state and federal licenses, ensuring minimum insurance requirements are in place and that the company can provide a Dun & Bradstreet report or bank letter of credit.
One of the most important traits to look for is that the company is consultative in nature. For example, the company should offer a hazardous waste walk-through program that focuses on areas like waste storage evaluation, emergency readiness and employee training procedures.
This helps ensure the company is more than just a disposal service. It ensures your hazardous waste management company is a partner … helping to ensure you meet all necessary regulations so that you can focus on your business and its future.