The headlines have been filled with stories of federal and state agencies cracking down on businesses for hazardous waste violations.
A UPS settlement that cost the shipping company $5.3 million. Nearly $8 million in fines after Safeway reached an agreement with the state of California for violating environmental laws. A $17 million proposed penalty after a warehouse fire caused ethanol to leak through a sewer system into the Dominguez Channels.
Those are just a few of the cases this year that ended with businesses facing millions of dollars in fines and a negative public image. The latest case involves Container Life Cycle Management, which recently reached a $1.6 million settlement with the United States and the state of Wisconsin for Clean Air Act and Resource Conservation and Recovery Act violations.
The Case Against Container Life Cycle Management
As part of the settlement, Container Life Cycle Management will pay a $1.6 million civil penalty that will be evenly split between the United States and the state of Wisconsin. In a complaint, the United States alleged violations of the Clean Air Act (CAA) after the company failed to control emissions of volatile organic compounds at its St. Francis, Wisconsin, container reconditioning facility.
The complaint also alleged that Container Life Cycle Management committed RCRA violations that are related to hazardous waste storage and handling regulations at its facilities in St. Francis and Oak Creek, Wisconsin, as well as a former facility in Milwaukee.
The Cost Of Vi
olations
In addition to the $1.6 million civil penalty, Container Life Cycle Management has had to or must implement a series of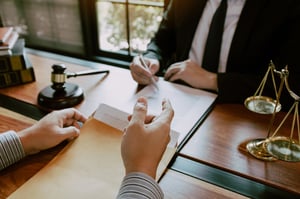 changes.
For instance, the company had to install and must continue to operate a regenerative thermal oxidizer to control air emissions of volatile organic compounds at the St. Francis facility, according to the U.S. Department Of Justice. The company must also construct additional systems that capture emissions within the facility, as well as conduct performance testing.
At the Oak Creek facility, workers must install and operate a new digital data recorder that will record the temperature of the drum reclamation furnace afterburner. This piece of equipment must remain at or above 1,650 degrees and must pass regular performance testing.
Finally, the company must implement a container management plan for two years. This plan provides for the storage of heavy and non-empty containers in RCRA-compliant hazardous waste storage areas. Even after the two-year period expires, Container Life Cycle Management must continue to meet certain reporting requirements.
As many companies have discovered, the cost of violations goes beyond the actual fine. Businesses often have to update their systems to ensure compliance with federal and state laws, as well as pay for any costs associated with regular inspections and testing.
It's wise to ensure your waste management systems are in compliance from the beginning in order to avoid heavy fines in the end.
Why Proper Hazardous Waste Storage Is Important
One of the main allegations against Container Life Cycle Management involved improper hazardous waste storage and handling at three of its facilities.
As a hazardous waste generator, it's important that you use the right type of storage container. For example, only containers approved by the Occupational Safety and Health Administrator (OSHA) may store flammable liquids. Some containers may be constructed using metal, while others may be made of plastic or glass.
Even the color of your storage container matters, especially at the industry level. For example, with medical waste disposal, container colors are not regulated at the federal level except for biohazardous waste and sharps (red). However, it's industry practice to use a yellow container for chemotherapy waste, black for P-listed drugs and blue for non-RCRA pharmaceutical wastes.
It's also extremely important that your company and its employees are familiar with what kinds of waste can and cannot be stored together or near each other. For example, some types of solvent waste are incompatible with materials like oxidizers. Incompatible chemicals can cause explosive situations and, because of the hazards they pose, require specific procedures for their proper handling and storage.
How A Hazardous Waste Specialist Can Help Protect Your Business
Reputable hazardous waste disposal companies can help you manage your waste streams, which can be a challenging and time-consuming process as government regulations continue to evolve. Staying current on all regulations is critical to ensuring you avoid the costly fines that the companies above faced.
The best disposal companies will not only help you dispose of your waste, they will help you develop protocols that ensure your materials are being properly stored and your waste is correctly identified.
When looking for a hazardous waste disposal company, make sure the business you partner with:
Specializes and is knowledgeable about the type of hazardous waste your company generates

Can identify waste through sampling and testing

Will prepare labels, manifests and other required paperwork that must be included or on storage containers

Ensure you are using the right hazardous waste storage containers

Determine whether these containers are being properly stored on-site or while waiting for pick-up

Offer prompt pickup when containers must be moved from storage to disposal
Many of these services are offered or covered during a hazardous waste walk through, a consultative in nature program that evaluates your hazardous waste procedures. An experienced and properly licensed hazardous waste disposal company should perform the walk-through to ensure your waste procedures meet all state and federal regulations.
The goal of a hazardous waste walk-through program is to catch potential regulatory issues before they become costly mistakes. Potential issues that can be caught in advance before they become costly fines include waste storage, labeling procedures and emergency readiness.
It's important to note that in many cases, a walk-through will identify outdated procedures that were once legal but have been changed over the years and are no longer valid. Experienced advisers will pinpoint areas of concern and provide cost-effective, simple solutions to avoid hazardous waste violations.