Even one of the world's leading shipping couriers isn't immune to hazardous waste laws … and the consequences of not following them.
The U.S. Environmental Protection Agency recently announced a $5.3 million settlement with United Parcel Service (UPS) that resolves violations of hazardous waste laws in the United States. The settlement resolves violations of regulations at 1,160 facilities across 45 states and the territory of Puerto Rico.
The case underscores the importance of having a solid hazardous waste disposal plan in place, as well as having a system that routinely evaluates whether all of your facilities are in compliance.
The Case Against UPS
UPS generates hazardous waste regulated under the Resource Conservation and Recovery Act (RCRA). This typically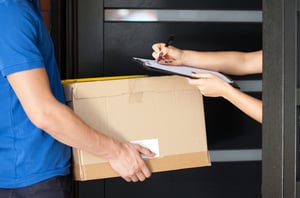 happens one of two ways:
When a package containing hazardous materials is damaged and must be disposed of
During day-to-day operations such as maintenance
Among the violations that UPS faced was the failure to make land disposal determinations and conduct proper on-site management of hazardous waste.
As part of the agreement, UPS has 36 months to come into compliance at 1,160 locations and must pay a civil penalty of $5,323,008.
The case evolved after EPA Region 6 entered into a settlement agreement with UPS in 2021 for its facilities in Arkansas, Louisiana, Oklahoma, New Mexico and Texas. The EPA then began looking into other UPS facilities across the country and identified similar claims that the company wasn't complying with RCRA requirements.
Since the initial investigation, UPS has enhanced its hazardous waste programs at its Region 6 locations, according to the EPA. The company has begun implementing similar programs to bring all locations nationwide into compliance.
Under the settlement, UPS agreed to comply with any state and federal regulations that are relevant to the company's operations, focusing on:
Accurate hazardous waste determinations
Complete RCRA notification
Proper employee training
Timely annual and biennial hazardous waste reporting
Land Disposal Restrictions determination
Proper onsite hazardous waste management
All applicable manifest requirements
The Takeaway From UPS Settlement
Even the largest companies can get in trouble for not ensuring their hazardous waste management practices are in top order. UPS isn't alone. Recent fines levied against major corporations include Safeway and Packaging Company Of America.
Hazardous waste companies of California can help ensure your company stays compliant. That's especially important considering federal and state disposal laws are continually evolving. Staying up-to-date on those changing laws yourself can be difficult and time-consuming.
The best disposal companies will offer a hazardous waste walk-through of your property. Consultative in nature, a walk-through can help prevent a problem before it becomes costly.
During a hazardous waste walk-through, an experienced team will evaluate your procedures to ensure they are effective and meet all state and federal regulations. These procedures include everything from hazardous waste disposal to employee training, waste storage and emergency preparation.
Services A Disposal Company Should Offer
As UPS and many other companies who have been fined have discovered, hazardous waste management is about more than only proper disposal. That's where high-quality hazardous waste disposal comes in.
In addition to proper disposal and a walk-through program, an experienced commercial hazardous waste disposal company will have the ability to:
Identify waste streams through profiling and testing
Develop site-specific plans that include training and emergency preparation
Transport waste to recycling and disposal sites, even if the sites that accept your waste are out of state
Prepare the required manifests and other state and federal paperwork
Provide proof that your waste streams were properly disposed of
As a waste generator, you are responsible for your hazardous waste from the moment it is generated to the moment it is properly disposed of, called cradle to grave. To ensure you are working with a reputable disposal company, make sure the company passes all background checks.
These checks should include state and federal licenses, such as Motor Carrier Permit, DOT Hazardous Material License, DTSC Transporter Registration, Registered Waste Hauler License, EPA License and Certified E-Waste Collector License. A disposal company should also meet minimum insurance requirements and have a Dun & Bradstreet number.
Finally, a disposal company should have a great reputation, especially among businesses like yours. Ask for contact information of clients the disposal company has worked with so that you can hear about their experiences.
Taking these extra steps to ensure you are working with a company that will help you meet hazardous waste disposal regulations, even as they evolve or your business evolves, is key to remaining compliant and safe from costly fines and bad publicity.