The owners and operators of a Carson, California, warehouse are facing a $17 million penalty, the largest fine ever levied by the Los Angeles water quality board.
The proposed fine, which will be finalized later this year, comes after the agency identified the warehouse as the source of material causing odors in the Dominguez Channels. News reports say several residents in the South Bay area have complained of headaches, burning eyes, nausea and other health problems due to the odor.
According to regulators, the building's tenants stored wellness and beauty products in addition to products containing chemicals like ethanol. When a fire occurred in September 2021, leaked ethanol passed through the sewer system into the Dominguez Channels. The decay of organic materials in the channel led to elevated levels of hydrogen sulfide in the air.
Although the companies that face the steep fine deny any wrongdoing, the Carson warehouse situation is one of many scenarios that show the importance of the proper disposal of waste that can harm the environment and nearby communities.
If you're one of many companies that are also holding onto surpluses of sanitizing products manufactured during the Covid-19 pandemic, here's why you should pay special attention to this case.
The Case Against the Warehouse Owners
If adopted by the Los Angeles Water Board, the $17 million penalty will be historic for the agency that is part of the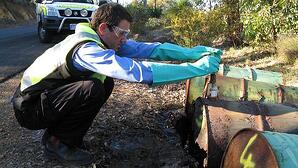 California Environmental Protection Agency. Also under this umbrella are the Air Resources Board, the Department of Pesticide Regulation, the Department of Toxic Substance Control, the California Integrated Waste Management Board, and the Office of Environmental Health Hazard Assessment.
Facing this fine are warehouse owner Liberty Property Limited Partnership and its parent company, Prologis Inc., as well as building tenants Day to Day Imports Inc. and Virgin Scent Inc., doing business as ArtNaturals.
According to news reports, the owners have insisted that they quickly began cleanup efforts after the building caught fire in 2021. However, the fire took several days for crews to extinguish because of its size.
The Los Angeles Water Quality Board also alleges that the operators and owners at the warehouse improperly stored large amounts of alcohol-based products, including hand sanitizer and anti-bacterial wipes. According to a news release, pollutants, including alcohol, were discharged from the warehouse facility during the lengthy effort to extinguish the fire. These are believed to have contributed to the hydrogen sulfide odors.
During an inspection of the warehouse after the fire was put out, investigators also found piles of burned debris that contained alcohol-based products and other hazardous substances.
How This Case Impacts Warehouse Operations
The stakes are always higher when companies regularly handle hazardous waste as part of their operations. Proper hazardous waste disposal is essential to ensure you are meeting all state and federal regulations and doing your part as a company to protect the environment and individuals in the community where you operate.
Many companies have found themselves in a unique situation due to the pandemic, particularly if they have manufactured hand sanitizer. At the beginning of the pandemic, factories, distilleries and other companies began manufacturing hand sanitizers at record speeds.
As many medical facilities and grocery stores struggled to keep their shelves stocked, manufacturers and distributors worked tirelessly to get alcohol-based cleansers into hands and on shelves as quickly as possible. To help, the U.S. government relaxed its guidelines to help meet this demand, allowing for more temporary regulatory flexibility when it came to formulation, labeling and disposal.
However, a perfect storm is brewing. Much of the demand for these hand and surface cleansers has been met and many companies are holding on to excess quantities. At the same time, the U.S. Food and Drug Administration (FDA) began to withdraw temporary hand sanitizer guidelines.
As the Carson case shows, improperly storing or holding on to these cleansers, many of which contain ethanol or ethyl alcohol, can lead to costly consequences.
How Product Disposal Can Help
Hazardous waste disposal companies can help you meet regulations and help to ensure your company never ends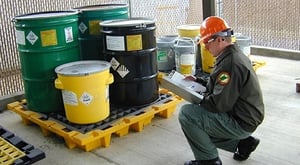 up in the headlines for improper storage and disposal.
Particularly with hand sanitizer products, these are considered hazardous waste because of their flammable and ignitability characteristics. Effective hand sanitizers typically are manufactured with a formula that includes ingredients that range between 60 and 95% ethyl or isopropyl alcohol. At this concentration, hand sanitizer is classified as a Class 3 Flammable Liquid, according to the U.S. Deparment Of Agriculture.
Disposal of hand sanitizer must follow specific handling and disposal requirements, which you can read more about in our article, Hand Sanitizer Waste Disposal: Do It Now Before It Is Too Late.
The best disposal companies will be familiar with the challenges hand sanitizer manufacturers, distributors and end-users face today and help put a plan in place to ensure any excess inventory is safely disposed of quickly, rather than sit in a warehouse space unused and lead to unintended consequences.
A quality vendor will also be able to:
Prepare labels, manifests and other paperwork
Offer prompt pickups
Address any cost concerns you have
Assist you with packaging your materials so you can avoid fines and save money
Help you dispose of any other waste you have on hand in an efficient manner
Offer a hazardous waste walk-through program that identifies any potential storage and disposal issues you may be facing
If you currently store other types of products, such as the wellness and beauty products found in the Carson warehouse that are branded and need proper disposal, a quality transport company should be able to help you with this as well.
Called certified product disposal or certified product destruction, this process destroys or disposes of products or their packaging to ensure that they will not be resold or utilized illegally.
The grey market tends to give people great deals on branded products since they often believe they're getting an authentic product from a brand name. Instead, they get damaged, blemished or expired products that can tarnish a brand's identity.
They may even purchase counterfeit products that have been placed in authentic packaging that unscrupulous characters swiped from a trash receptacle or paid an employee to smuggle out.
Certified product disposal ensures discontinued products, expired items, outdated brand packaging and any other goods you don't want to hit the market are properly destroyed with proof.
In the case of the Carson warehouse, if any of those wellness and beauty products were no longer designated for sale, a certified product disposal company could quickly remove and destroy them. A product disposal company could also have handled the removal of the excess alcohol-based products and other hazardous substances that were found in piles of burned debris if the company is certified to handle that type of waste.
IMPORTANT FINAL NOTE: Ensure your certified transporter is listed on the California Department of Toxic Substances Control's Registered Hazardous Waste Transporter Database. This database provides information about when the transporter's registration expires, its registration number and its location.