A recent case against the beauty company is another example of how violating hazardous waste disposal regulations can be a costly mistake.
The $752,000 in civil penalties, supplemental environmental projects and other costs comes after 34 district attorney offices and city attorneys in California reached a settlement against Ulta for the improper storage, handling and disposal of hazardous waste.
According to the complaint, Ulta Beauty stores throughout the state improperly disposed of flammable, reactive, toxic and corrosive materials regularly found at the stores, such as cosmetics, fragrances, nail polish and electronics. These items were placed in standard trash containers rather than legally disposed of at hazardous waste disposal sites.
The complaint also alleged that the company failed to properly store these hazardous waste materials nor train employees on how to properly dispose of them.
Under the terms of the settlement, Ulta must pay $439,500 in civil penalties, $250,000 in costs and $62,500 in supplemental environmental projects. The company must also implement compliance assurance programs to ensure this doesn't happen again.
While hazardous waste is often thought of as something that only industrial companies and manufacturers must deal with, in reality, it's a common challenge across many industries.
If your company generates any type of hazardous waste that must be properly managed under federal, state and local guidelines, it's important to ensure this waste is disposed of safely and according to the law.
Here is what you need to know about the different ways improper disposal can cost you and what you can do now to ensure your company doesn't make headlines like Ulta Beauty.
How Improper Disposal Can Cost You
Ulta Beauty is just one of several companies that have been hit by substantial fines and penalties as a result of improper hazardous waste management.
In 2020, authorities announced that a $1.6 million settlement had been reached in the case against CarMax Auto Superstores California, LLC. The lawsuit, filed by 16 district attorney's offices across the state, was a result of an undercover investigation that found several stores had illegally handled and disposed of hazardous waste.
Also in 2020, the company that bottles Crystal Geyser Natural Alpine Spring Water pled guilty in U.S. District Court to unlawful storage of hazardous waste and unlawful hazardous waste transportation, resulting in a $5 million criminal fine.
The United States and the state of Nebraska also reached a settlement with Clean Harbors Environmental Services Inc. that ended with the company agreeing to pay a $790,000 civil penalty in 2020 after failing to manage and contain hazardous wastes.
While these are significant fines that could ruin the financial health of any business, improper waste management can cost you in other ways.
Negative publicity from any allegations can be even more damaging, causing other companies to drop contracts with you for fear that their reputations could suffer from being associated professionally with your business.
Consumers may also avoid purchasing your brand if they feel doing so would amount to purchasing from a company that doesn't value environmentally-friendly practices. In the case of Ulta Beauty, the company does more than $6 billion in sales each year and is a publicly-traded company. Any bad publicity could cost a company like Ulta significant profits, which could in turn send stock values plummeting.
For many companies that face substantial fines, they must also make operational changes to address the issues that resulted in those penalties. If consultants are brought in, this could be a costly expense. Some businesses may even need to temporarily halt production until they have a proper system in place for the disposal of hazardous wastes generated during production.
How To Ensure Compliance With Regulations
Ulta Beauty must now implement new policies and procedures to avoid any future violations and help the company better manage its hazardous waste, according to the Contra District Attorney's Office.
But, how can companies avoid penalties in the first place? Working with an experienced hazardous waste disposal company can ensure your business is in compliance and meeting all regulations.
It is your responsibility as a generator to ensure that your waste is disposed of properly, from the moment you generate it to the moment it is disposed of. This is called cradle to grave.
The best disposal companies will work with you to establish a waste management plan that covers all areas of your operations … from the moment the waste is generated to its final disposal.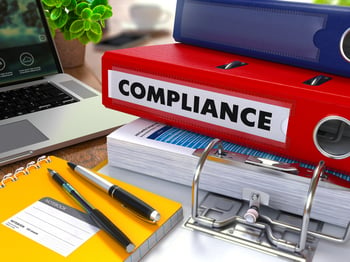 To achieve this, a hazardous waste disposal company should:
Be able to identify waste streams through profiling and testing
Will develop site-specific plans that include training and emergency preparation
Transport your waste to the proper recycling and disposal sites
Prepare a manifest and other state and federal paperwork
Offer evidence that your waste has been properly disposed of
The best disposal companies will also offer a hazardous waste walk-through program that evaluates your hazardous waste procedures. This allows for potential issues to be caught BEFORE they become costly mistakes.
This process is collaborative and ensures that your company and employees are protected and in legal compliance with areas like waste manifesting, waste storage, emergency readiness, proper labeling procedures, employee training and more.
3 Traits To Look For In A Hazardous Waste Disposal Company
If you're concerned about finding a hazardous waste disposal company that has your back and will ensure you're meeting all hazardous waste regulations, that's not a bad thing. A lot is riding on getting your disposal practices right, especially since the alternative can be costly to your business … now and in the future.
When evaluating your options, look for these three traits in a hazardous waste disposal company:
A disposal company should be able to pass all background checks. This includes checking state and federal licenses (Motor Carrier Permit, DOT Hazardous Material License, DTSC Transporter Registration, Registered Waste Hauler License, EPA License and Certified E-Waste Collector License), ensuring minimum insurance requirements are met and requesting a Dun & Bradstreet number.
A disposal company should have a great reputation, especially among businesses like yours. Ask for contact information of clients the disposal company has worked with so that you can hear about their experiences and any services that helped them with their waste management plans.
A disposal company should be consultative in nature. A hazardous waste walk-through program is a good example of this because it shows the company cares about the success of your company rather than only disposing of your waste.
Hazardous waste is a challenge for many businesses, considering there are several types of hazardous wastes, from e-waste to industrial waste and medical waste. That means there are also several different state and federal regulations you must follow, especially if you have multiple waste streams.
An experienced hazardous waste disposal company will help you manage your waste under all federal, state and local guidelines, while ensuring your waste is disposed of safely and that you stay out of the headlines.