If your company produces California e waste, it is imperative to know what laws you are required to follow when disposing of electronics.
While it may seem federal laws take precedence in most scenarios, you are required to follow any state laws as well that oversee the disposal of electronic waste.
Electronic waste, otherwise known as e-waste, consists of electronic devices that are near or at the end of their useful life. According to the World Economic Forum, 50 million tonnes of e-waste are produced each year globally. Experts say that number could double by 2050.
Examples of e-waste include:
Televisions
CD players, DVD players and VCRs
Large and small appliances
Cell phones
Computer monitors and towers
Printers and keyboards
Calculators
Flashlights
Some toys
Lamps
What constitutes e-waste legally and how it must be disposed of differs among states and the federal government. In particular, California e-waste laws are more rigorous than federal laws because they:
Have a stricter definition of what types of e-waste must be regulated
Include a focus on the recycling of batteries
Offer consumers an easy way to recycle cell phones
Take CRT recycling an extra step
If your company produces e-waste in California, it's important to understand the difference between what is required of you at both the federal and state levels.
E-Waste Regulated In California
There are no federal laws on the recycling of electronics. In response to this, 25 states have put into place electronics recycling laws, including California.
One of the only exceptions to this is the management of cathode ray tubes (CRTs). CRTs are found in computer monitors and the federal Resource Conservation and Recovery Act (RCRA) classifies these as hazardous waste.
In California, it is illegal to throw away several types of e-waste, such as old televisions, batteries, computers, cell phones, fax machines, copiers, stereos and more.
For California businesses, that means finding a way to dispose of unwanted electronics safely. According to the U.S. Environmental Protection Agency, every day Americans throw out about 130,000 computers and 350,000 cell phones - both commonly found in both small businesses and large corporations throughout the United States.
In 2005, the state enacted the Electronic Waste Recycling Act to help offset the costs of handling unwanted electronic devices. For any business, cost can be a driving factor in what waste procedures are put into place. As part of this legislation, an electronic waste recovery and recycling program was implemented that offered free recycling opportunities.
The ultimate goal of the act was to decrease the amount of hazardous materials entering into waste streams. It's worked. Since the bill's enactment, the state has established more than 600 recycling locations and has recovered or recycled more than 2 billion pounds of electronic devices.
Battery Recycling Programs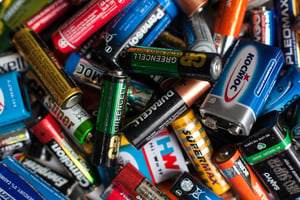 Nearly every business utilizes batteries. In addition to small batteries used in everyday electronics, many businesses utilize other types that include lithium, mercury, NiCd and lead. A company's equipment that uses these types of batteries may range from cell phones to electric vehicles and other equipment.
When included in the waste stream, batteries can present several environmental and safety hazards. When not properly disposed of, the casing on a battery can disintegrate. This will allow toxic chemicals inside to leach into the ground or water.
While there are no federal laws regarding the proper disposal of batteries, in California, several government agencies and retailers accept old batteries. They then send them on for recycling.
In addition to these battery recycling programs offered at the state level, disposal companies that specialize in hazardous waste and electronic waste removal can help facilitate the safe removal and disposal of certain types of batteries.
Although there are programs in place, a waste disposal company certified in e-waste removal may be able to accept items that some drop-off programs do not, including spent batteries.
Cell Phone Recycling
The regulation of cell phone disposal is also handled at the state level. In California, the state has mandated retailers assist with the recycling of cell phones since 2004. The California Cell Phone Recycling Act of 2004 requires retailers to accept cell phones from consumers and businesses for the purpose of recycling them. Retailers that sell cell phones must participate.
According to the Department of Toxic Substances Control, in 2019, nearly half a million phones were returned for recycling. However, it is important to note that California law does not require collectors to report the number of cell phones they collect for recycling.
Programs such as these can be beneficial for businesses, especially small companies, because manufacturers may be more likely to offer a deal on the purchase of new cell phones in exchange for older models.
For larger corporations that provide company-issued devices, taking these devices to a storefront retailer may not logistically make sense. In California, an electronic waste disposal company can instead dispose of your e-waste material quickly, safely and effectively.
CRT Panel Glass Recycling
As new technology has enhanced must-see TV viewing experiences, the old-fashioned "tube TVs" that use Cathode Ray Tubes (CRTs) are sorely outdated.
While the RCRA classifies CRTs as hazardous waste and requires their safe disposal, recyclers were struggling with what to do with the non-toxic glass from the tubes. When CRT monitors and other devices are recycled, three types of glass are removed. Funnel glass contains the high levels of lead and is the cause of why CRTs are considered hazardous.
However, two other types of glass inside CRTs, low and non-leaded panel glass, contain either low concentrations of lead or no amounts of lead at all.
Up until 2016, many recyclers were stockpiling the non-toxic glass on their property because of rising costs, negative economic incentives and strict regulations. However, the passage of Assembly Bill 1419 allowed scrap CRT panel glass to be used in new products like tiles, fiberglass, bricks and cast concrete as long as they pose no harm.
So what does this state law mean for businesses? Not only will you have an outlet for recycling the CRTs that are found in your company's computer monitors and televisions, you will have a stronger market for choosing the right recycling partner. Over the past few years, AB 1419 has helped open up recycling markets in California, while reducing stockpiles of this hazardous material.
A Significant Toll
Even with California's e-waste laws put into place, more than 9 million tons of electronics are tossed every year in the United States. Only 12.5% of that e-waste is recycled.
If your company produces e-waste, it is important to ensure it is legally and responsibly disposed of. A certified waste disposal company can provide several benefits while reassuring you that your company is meeting all electronic waste disposal regulations.
A waste disposal company that has experience in e-waste removal will:
Dispose of small or large quantities. This can be especially beneficial if you are replacing an entire network of computers or other equipment in your office space and do not have the time or manpower to take on this task.
Accept many types of e-waste that some drop-off facilities do not. The state of California has several drop-off facilities where residents and companies can drop off e-waste no longer wanted. However, certain facilities may only accept certain types of e-waste. This can create a scenario for you where an employee will have to make multiple trips. It may be difficult to find a facility that accepts the type of e-waste you need to discard, such as spent batteries or mercury-containing thermostats.
Assist you with determining what type of e-waste you have. While it may seem obvious if you have computers or televisions that need to be discarded, other types of e-waste aren't as easy to decipher or determine what type of facility they should be sent to for recycling. A disposal company can help you determine what can be safely disposed of on your own versus what requires hazardous waste disposal by law.
Help you dispose of your e-waste quickly. Disposing of your electronic equipment can be a time-consuming process, resulting in significant downtime among employees. A waste disposal company will respond to your needs in a timely manner so you can move forward with your business.
E-waste can take a significant toll on the environment, your community and your business if not disposed of correctly. If your company is based in California, you are subject to more stringent laws than businesses located in some other states.
A company certified and experienced in electronic waste disposal will ensure you are not only meeting all current regulations, but doing so in a safe and timely manner.