The owner of a waste treatment and recycling company is in hot water after pleading guilty to violating the Clean Water Act.
Robert J. Massey, the president and owner of Oil Chem, Inc., pleaded guilty in federal court in January to illegally discharging more than 47 million gallons of landfill leachate into the sanitary sewer systems in Flint, Mich., over an eight-year period.
The Flint-based company offers nonhazardous waste treatment services, as well as chemical management and recycled cutting oil services for several different industries.
This leaves many companies wondering, "Can I trust my waste disposal company?"
The Case Against Oil Chem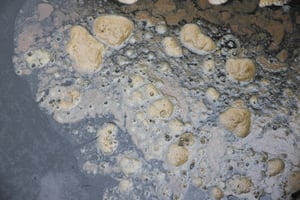 Oil Chem held a city permit under the Clean Water Act that allowed it to discharge certain types of industrial waste as long as they fell within the permit's limitations, according to the U.S. Department of Justice.
In the city of Flint, the sanitary sewers flow to a municipal wastewater treatment plant where waste is treated and discharged into the Flint River.
According to the permit that Oil Chem held, the company could not discharge landfill leachate waste, which occurs when water filters downward through a landfill. In the plea agreement that was entered in federal court, Massey did not disclose that Oil Chem continued to receive this type of waste that it then discharged into sewers untreated at the end of each business day.
From 2007 through 2015, Massey also arranged for Oil Chem to receive more than 47 million gallons of landfill leachate from eight landfills in Michigan. One landfill had polychlorinated biphenyls (PCBs) in the leachate, according to the plea deal. PCBs are hazardous to humans and the environment.
Sentencing for these crimes is scheduled for May 14. Possible penalties include up to three years in prison and a fine of up to $5,000 to $50,000 per violation day.
Questions To Ask A Waste Disposal Company
If your company generates hazardous waste, it's important to ensure it is properly disposed of so that you don't face the same consequences that other violators have faced, including Walgreens and Lowes.
As a reminder...you are responsible for your waste from the moment it is generated to the moment it is disposed of, otherwise known as cradle to grave. Nothing will relinquish a generator of this responsibility. There is no expiration date or time limit, and even hiring another company to transport and dispose of your waste does not transfer responsibility for your waste.
That's why it's so important to ensure that you and the hazardous waste disposal company that you hire are operating by the book.
Working with an experienced hazardous waste disposal company can ensure all local, state and federal regulations are met. However, disposal companies sometimes find themselves caught by the long arm of the law, such as was the case with Oil Chem.
When selecting your hazardous waste disposal company, we suggest that you ask your candidates to provide a documented compliance history, licensing credentials, insurance coverage and a statement of qualifications.
Here are a few additional questions to ask during the research and interview process so that your disposal company doesn't take you for a ride:
Are you financially sound and can prove so through a Dun & Bradstreet report or bank letter of credit?
Are you properly permitted for the transportation, storage, treatment and disposal of waste identified at your facility?
Are you able to demonstrate a good sound history of regulatory compliance?
Do you meet minimum insurance requirements and have coverage for accidents?
Do you have adequate personnel who are properly trained?
Do you have procedures for dealing with unknown chemicals?
Are you able to provide a list of capabilities and services?
Are you able to identify how materials will be managed?
Are you able to provide a list of references on past related projects?
If the waste disposal company you are considering works with subcontractors, make sure you ask if the company is able to identify which subcontractors are utilized for what activities.
What The Best Disposal Companies Will Offer
Choosing a company that is certified and experienced in dealing with the waste your company generates should be a top characteristic to look for when navigating your options.
Keep in mind that you may have multiple times of hazardous waste, such as medical waste or electronic waste. Each type has its own set of regulations and requires its own high level of expertise.
Five other services you should look for in a disposal company include:
The ability to identify waste streams through profiling and testing
The development of site-specific plans that include training and emergency preparation
The ability to transport to recycling and disposal sites
The knowledge needed to prepare a manifest correctly, as well as other state and federal paperwork
The ability to provide proof that your waste streams were properly disposed of, whether through documentation, video or other sources
Another highly desirable quality in a waste disposal company is the service of a hazardous waste walk-through. This type of program takes a second look at your processes in place to ensure your hazardous waste management plan is sound.
A walk-through program is consultative in nature and focuses on areas like waste storage evaluation, emergency readiness and employee training procedures.
Due diligence is essential in ensuring a waste disposal company not only plays by the book, but ensures you avoid any costly violations and are confident in your hazardous waste processes as well.