In today's news, another large retailer bites the dust! The state of California continued it all out assault against big box retailers with Lowe's being hit with fines and penalties for illegally dumping hazardous waste. The home improvement giant agreed to pay $18 million in fines to settle a lawsuit with the state of California for illegal dumping activities.
The California Department of Toxic Substances Control's Office of Criminal Investigation conducted a multi-year investigation in conjunction with 31 California district attorneys and 2 city attorneys.
From the DTSC Press Release:
The judgment is the culmination of a civil enforcement action filed in Alameda County and led by the district attorneys of Alameda, San Joaquin and Solano counties, which alleged that more than 118 Lowe's stores throughout the state unlawfully handled and disposed of hazardous wastes over a six and a half year period. Those hazardous wastes and materials included pesticides, aerosols, paint and colorants, solvents, adhesives, batteries, mercury-containing fluorescent bulbs, electronic waste and other toxic, ignitable and corrosive materials.
The State Goes Dumpster Diving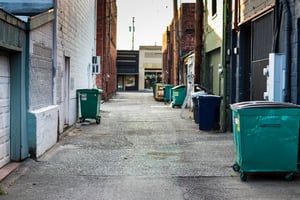 The lawsuit alleged that more than 100 Lowe's stores throughout the state sent items such as spilled or returned paint and toxic chemicals to local landfills that were not permitted to handle those types of hazardous materials.
More brazenly, the company also took used batteries and old fluorescent light bulbs collected from its stores' recycling programs and threw them in the trash, according to the suit.
"The dangers inherent in dumping hazardous waste cannot be understated, it is absolutely essential that we protect our environment for future generations," said San Francisco District Attorney George Gascón in a prepared statement."
The hazardous dumping violations were found by DTSC investigators and environmental regulators who conducted inspections of Dumpsters belonging to Lowe's stores. As we shared last year, this is a favorite tactic of DTSC, one which businesses throughout the state should be aware of.
Lowe's Joins A Long Line Of Retailers To Receive Fines
Lowe's is just the latest retailer to settle with the state. As referenced in the DTSC press release, the California Department of Toxic Substance Control has generated $105 million in fines since 2010 from retailing giants Wal-Mart, Target, Walgreens, CVS, Costco, Save Mart, and now Lowe's.
| | | |
| --- | --- | --- |
| Retailer | Year | Total Settlement |
| Wal-Mart | 2010 | $27.7 Million |
| Target | 2011 | $22.5 Million |
| Walgreens | 2012 | $16.6 Million |
| CVS | 2012 | $13.75 Million |
| Costco | 2012 | $3.5 Million |
| Save Mart | 2013 | $2.55 Million |
| Lowe's | 2014 | $18.1 Million |
Under the final judgment, Lowe's must pay $12.85 million in civil penalties and costs and $3 million for hazardous waste minimization projects. Another $2 million will fund supplemental environmental projects aimed at consumer protection.