Finding a local hazardous waste disposal company you can trust is no easy task.
While there are many companies out there that will promise to dispose of your waste, knowing which ones will do so properly and responsibly can take more effort than simply doing a quick Google search.
The decision you make can have long-lasting ramifications, so picking the right partner for your hazardous waste disposal needs is important to get right the first time.
Here are some tips to finding the best local hazardous waste disposal services in your area.
Check The California DTSC Database
The California Department of Toxic Substances Control (DTSC) maintains a Registered Hazardous Waste Transporter Database. This database is a valuable tool that allows you to search by name, location or registration number. Within the location search tools, you can search by city, county or zip code if you're looking for a disposal company within a certain region.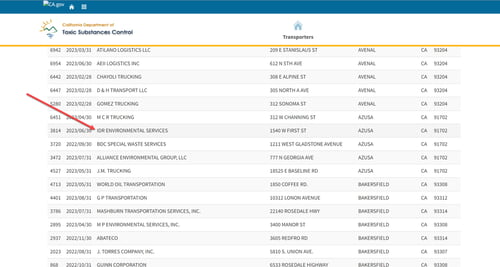 This database also provides information about when the transporter's registration expires. Because a hazardous waste transporter registration is valid for only one year, conducting annual environmental audits of vendors handling your hazardous waste is a good idea. As can happen with any business, a reliable environmental vendor can lose its approved registration status if it does not meet certain criteria.
This database is helpful if you are searching for a disposal partner by location or you want to verify if a company you are considering is certified to handle hazardous waste in California.
Explore RCRAInfo
The Resource Conservation and Recovery Act Information (RCRAInfo) maintains hazardous waste information including an inventory system of hazardous waste handlers. This inventory includes all transporters and disposers of hazardous waste, as well as all generators, treaters and storers.
When searching RCRAInfo Web, you can use a variety of criteria to get more specified results, including city, state, zip code and federal activities like if you're looking for a transporter, recycler or a company that receives hazardous waste from off-site.
Once you locate a disposal company, you can find additional information, including permits, compliance with federal and state regulations, and cleanup activities.
Don't Rely On A Broker
It may be tempting to rely on the help of a hazardous waste broker to connect you with a local disposal company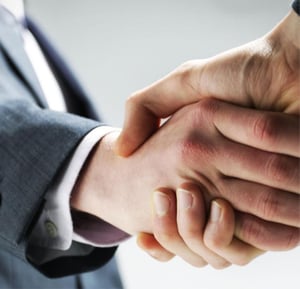 that will accept your products, substances or other hazardous items. We strongly advise you not to take this course of action.
Brokers typically do not own a hazardous waste transportation business. They act as a middleman between the buyer (you) and the transportation company that takes your waste to a disposal site.
In other words, a hazardous waste broker is NOT the same as a hazardous waste transporter.
Hazardous waste generators often come into contact with a broker when they perform an online search for hazardous waste disposal companies. One of the first pieces of information you will want to know is cost, so you may ask for a quote. What you won't know is that the company you just requested this information from is not a hazardous waste transportation company. It's instead a broker.
That broker will take your request and then begin calling hazardous waste transportation companies to get a price from them for your disposal. Sounds good, right?
While this may take the burden of calling companies off your hands, the problem with this scenario is that the broker will take the quoted price and mark it up with whatever percentage it wants. It will then submit the quote to you for approval.
In the end, you don't even know who is handling your waste, and you're paying more for that uncertainty. If something goes wrong during transport, your business is at risk due to cradle-to-grave requirements, which link the generator with responsibility for the waste until it is properly disposed of. These requirements are particularly important in protecting households in your community and the environment.
To better understand if you are talking to a broker or a certified transporter, our article Hazardous Waste Transporters Vs. Brokers, shares some tips on how you can tell the difference and save your company from overspending and potential legal problems.
Look For The Right Qualifications
Above we mentioned a couple databases that can help you find a local hazardous waste disposal company and then check whether that business has the right licenses and certifications to haul your waste.
However, additional qualifications can help you narrow down which waste disposal transporters match your company's needs.
Reputable hazardous waste services will:
Identify uncertain waste streams through profiling and testing to ensure the right TSDFs receive the right waste
Evaluate your waste streams to determine if the waste could be reclassified as non-hazardous waste and save you money on the disposal fees
Develop site-specific plans that include training and emergency preparation so that the preparation that takes place before transport is safe and efficient
Transport your waste to the proper recycling and disposal sites
Prepare a manifest and other state and federal paperwork required for transport
Offer evidence that your waste has been properly disposed of at the treatment and disposal facility
The best waste disposal companies will also offer a hazardous waste walk-through program. This service evaluates your hazardous waste management procedures, allowing for potential issues to be caught before they become costly mistakes. A walk-through is also collaborative and ensures that your company and employees are protected and in legal compliance with transport areas like waste manifesting, proper labeling procedures and emergency readiness.
How To Do A Final Check
Choosing a local hazardous waste disposal company is an important step in ensuring you are meeting all local, state and federal regulations. You want to make sure this decision is right for your company presently and in the future.
After you've narrowed down some options, here are a few tips to ensure your decision is sound.
Double check a company's background. This includes checking a list of state and federal licenses (Motor Carrier Permit, DOT Hazardous Material License, DTSC Transporter Registration, etc.).
Dive into the company's reputation. Ask for contact information of clients the disposal company has worked with so that you can hear about their experiences first-hand. If you're looking for a local company, it's likely that the small businesses the disposal company has served are in your community as well and can offer first-hand knowledge of their experiences working with the transporter you are considering.
Ensure the disposal company has knowledge of your types of hazardous waste. There are many types of hazardous waste that require special disposal, from e-waste (electronic waste) to medical waste, pharmaceuticals, pesticides, chemicals, batteries and more. Each type has its own set of disposal regulations that must be followed, and many industries are seeing regulations quickly changing. The Carson case is one example of this.
Know the importance of crossing state lines. If your waste is being transported across state lines, a disposal company should be aware of all laws pertaining to your type of hazardous waste in every state it travels.
Finding a local hazardous waste disposal company is easier said than done. Your decision is too important to simply Google search a transporter or rely on a local company down the street from your business.
There are many steps you can take to ensure the hazardous waste disposal company you choose is not only registered to transport the type of waste you generate, but prioritizes your company's reputation and has its own stellar reputation to prove it.