On March 27th, 2013 the California Department of Toxic Substances Control (DTSC) announced a fine against Chemical Waste Management (CWM) facility in Kettleman City in the amount of $291,208.84. In addition to the fine, the company was to reimburse the DTSC its costs of $19,985.13, bringing the entire amount CWM must pay the DTSC to $311,194.00.
Why They Were Fined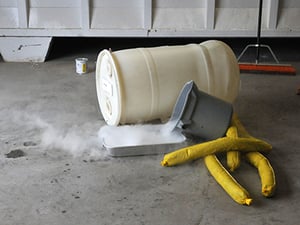 The fine was largely due to CWM's failure to report to the department, 72 spills at the San Joaquin Valley facility during a four-year period from June 2008 – 2012.
In a statement, Brian Johnson, DTSC Deputy Director of Enforcement said, "Our job is to ensure that facilities operate in compliance with the hazardous waste control laws and to hold them accountable when they don't. This is a significant fine that underscores our commitment and sends a clear message to communities that DTSC will protect violations of the hazardous waste control laws."
During a routine inspection in April 2012, DTSC discovered that CWM had created an internal report of spills but had failed to notify the department. DTSC had no evidence to suggest that the any of the 72 spills posed any danger to nearby communities or the environment.
The spills occurred mostly in the facilities loading and sampling areas. However, CWM's current permit requires verbal notification within 24 hours of a hazardous waste spill and written notification within 10 days of the discovery of a spill. Under the agreement, CWM will pay the total settlement amount within 30 days of the effective date of the settlement.
You can see the Judgement and Notices of Violations here.
Warning To Hazardous Waste Generators
This judgement underscores the need for Hazardous Waste Generators to correctly report their hazardous waste spills and the need for proper hazardous waste storage.
But, they aren't the only ones!
In 2012, drugstore giant Walgreens was ordered to pay more than $16.5 million in damages as part of a lawsuit settlement in which the Illinois-based company was accused of illegally dumping pharmaceutical and biohazardous wastes throughout California.
The settlement agreement, reached in Alameda County Superior Court, ends a joint lawsuit filed by district attorneys representing more than half of the counties in the state, including Alameda County.
The lawsuit claimed that Walgreens employees were illegally dumping pharmaceutical and biohazardous waste into regular trash bins rather than sending the waste to authorized disposal sites.
Also in 2012, Costco Wholesale Corp. had to pay $3.6 million in fines in a settlement that State regulators announced over improper storage, handling and disposal of hazardous waste and pharmaceutical waste products in many of their stores.
Costco violated California safe storage laws over five years "at numerous Costco stores and distribution stores statewide, including five stores in Sacramento County,"
What You Need To Do To Avoid Being Fined
All of these fines further point out to hazardous waste generators the need for proper labeling, storage, training of personnel and disposal of your hazardous waste. Failure to follow the DTSC guidelines and your own permit requirements will land you in trouble and forced to pay expensive fines.
It is important to get expert help if you aren't sure of your responsibilities.