At the beginning of the Covid-19 pandemic, factories, distilleries and other companies switched gears and began manufacturing hand sanitizers at record speeds.
As medical facilities and grocery stories struggled to keep their shelves stocked, manufacturers and distributors worked to get the alcohol-based cleansers into hands as quickly as possible. To help, the U.S. government issued relaxed guidances to help meet this demand, allowing for more temporary regulatory flexibility when it came to formulation, labeling and disposal.
However, because data indicates that consumers and healthcare professionals are no longer experiencing these difficulties, the U.S. Food and Drug Administration (FDA) began withdrawing temporary hand sanitizer guidelines.
This means if you manufacture, distribute or have in possession excess hand sanitizer and have to dispose of it because it is past its expiration date, you must comply with all applicable regulatory requirements that were in place prior to Dec. 31, 2021.
Why are these updated guidelines important? Federal regulations require that alcohol-based hand sanitizers be treated as hazardous waste.
If you have large quantities of hand sanitizers on hand, it's important that you act fast and secure legal methods for proper disposal. The longer you wait, the more likely there will be other manufacturers and distributors lined up and waiting for disposal services. This may cause not only a delay in your disposal but a significant price hike as the demand for these certified disposal services increases.
Why Hand Sanitizer Is A Flammable Liquid
Although hand sanitizer products are considered over-the-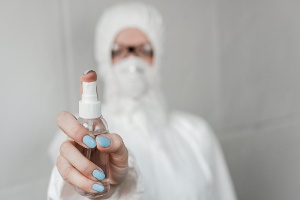 counter drug items, they are considered hazardous waste because of their flammable and ignitability characteristics.
Effective hand sanitizers typically are manufactured using a formula that includes ingredients that range between 60 and 95% ethyl or isopropyl alcohol. At this concentration, hand sanitizer is classified as a Class 3 Flammable Liquid, according to the U.S. Department of Agriculture.
Class 3 Flammable Liquids are those that have a flashpoint of not more than 140 degrees Fahrenheit. A flashpoint is a temperature at which a particular organic compound gives off sufficient vapor to ignite in air.
Released vapor is the true danger of flammable liquids. For example, if static electricity is present, a highly flammable substance can be ignited.
This means businesses disposing of hand sanitizer must follow specific handling and disposal requirements, ensuring that there is no threat to human health and the environment.
Hand Sanitizer Disposal Regulations
Meeting federal disposal regulations can be achieved by working with certified hazardous waste disposal companies.
It's important to keep in mind that because of the dangerous nature of flammable liquids, regulations for transporting and disposing of flammable liquids are quite extensive. Some of the transporting requirements include:
Only approved portable tanks and containers may be used to store and transport class 3 flammable liquids.

Portable tanks must include provisions for emergency vents that can be used to decrease internal pressure under fire exposure conditions. They must also have at least one pressure-activated vent.

Small containers holding less than 8 gallons of flammable liquid and with a weight of fewer than 440 pounds can be transported by anyone who has undergone general hazmat training.

Shipments must include MSDS sheets and must be appropriately labeled as "Gasoline" or "Flammable Liquid."

Larger shipments must include MSDS sheets, an emergency response guide and a hazmat bill of lading.

Drivers who transport more than 119 gallons or more than 1,001 pounds of class 3 dangerous goods must also have a commercial driver's license or CDL. Extensive driver training is also highly recommended for those who carry large amounts.

Shippers who transport containers that hold less than 8 gallons and weigh more than 440 pounds but less than 1,001 pounds and containers that hold between 8 and 119 gallons and weigh less than 1,001 pounds must complete emergency response guide training as well as HM-126F training.

Dangerous Good placards are required by 49 CFR 172.500 as well as the International Maritime Organization. Such placards must be affixed to highway, rail and ocean containers.
If you're a manufacturer, distributor or end-user currently in possession of large quantities of hand sanitizer that are about to expire or have expired and must be disposed of, hazard waste disposal should be a top concern NOW.
How To Find A Disposal Company For Your Hand Sanitizer
Because time is of the essence, finding the right hazardous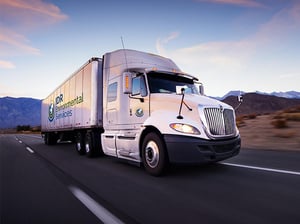 waste disposal company to partner with is critical. It's important to keep in mind that the best transporter isn't necessarily going to be the least expensive option.
Don't trade short-term cost savings for long-term liabilities.
A disposal company should be familiar with the challenges hand sanitizer manufacturers, distributors and end-users are currently facing and have a plan in place to ensure their inventory can safely be disposed of at the appropriate hazardous waste collection sites.
A quality vendor will also be able to:
Prepare labels, manifests and other paperwork

Offer prompt pickups

Address any cost concerns you have

Assist you with packaging your materials so you can avoid fines and save money

Help you dispose of any other waste you have on hand in an efficient manner

Offer a

hazardous waste walk-through

program that identifies any potential storage and disposal issues you may be facing
A certified transporter should also be listed on the California Department of Toxic Substances Control's Registered Hazardous Waste Transporter Database. This database provides information about when the transporter's registration expires, its registration number and its location.
A hazardous waste transporter registration is valid for only one year, so it's a good idea to conduct annual environmental audits of vendors handling your hazardous waste, especially if you are looking for a long-term partner beyond the disposal of your hand sanitizer inventory.
The Time Is Now
If your company is holding on to excess quantities of hand sanitizer, it's time to dispose of it … before it's too late. While once a hot commodity, hand sanitizer is regularly available. That means you'll soon be left with a stash of worthless products.
And, the longer you wait to dispose of it, the more likely you'll pay for higher and higher disposal costs. It's a simple case of supply and demand. More and more manufacturers and distributors are beginning to unload their surplus supplies, and if you get caught getting rid of your supply too late, you'll pay a higher premium for in-demand disposal service.