"Out of sight, out of mind" may seem like a good motto to operate by, but in the world of hazardous waste, that can land you in hot water.
If your company generates hazardous waste, you may feel a sense of relief once it's picked up and transported offsite. However, your responsibility for that waste doesn't end once it leaves your site.
In fact, you are responsible for your hazardous waste from the moment it is generated to the moment it is properly disposed of. Here's why.
Hazardous Waste Is Heavily Regulated
Hazardous waste management is a heavily regulated activity. It is critically important that companies understand both federal and state laws governing hazardous waste management activities to minimize their liability stemming from the production of hazardous waste.
The Resource Conservation and Recovery Act (RCRA), enacted in 1976, is the principal federal law in the United States governing the disposal of solid waste and hazardous waste. This groundbreaking legislation established the standards for the treatment, storage and disposal of hazardous waste.
The most notable provisions of the RCRA are included in Subtitle C, which directs the Environmental Protection Agency (EPA) to establish controls on the management of hazardous wastes from their point of generation, through their transportation and treatment, storage and/or disposal.
The overall regulatory framework is known as the "cradle to grave" system. The program requires stringent recordkeeping and reporting requirements on generators, transporters and operators of treatment, storage and disposal facilities handling hazardous waste.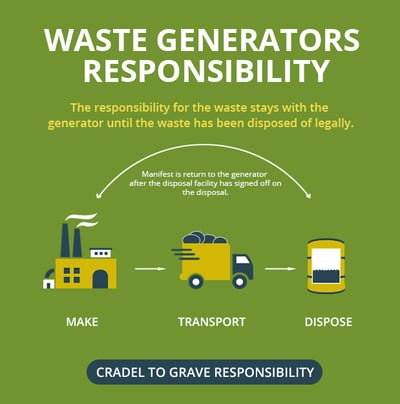 Choosing The Right Hazardous Waste Transporter
One of the most important choices you have to make as a hazardous waste generator is a waste transporter. To maintain your cradle to grave compliance, the partner you choose must be trustworthy and experienced.
Waste generators must work with licensed and certified companies throughout the disposal process and understand where the materials are being disposed of. Suppose any part of the disposal process breaks down, for example. Say a transporter dumps your waste in a hole in the ground or pours your hazardous fluids into the local sewer system, you will be held liable and subject to significant fines.
The right vendor will help you stay in compliance with state and state federal hazardous waste regulations, provide minimal disruption to your operations and cost-effectively perform these tasks.
There are several hazardous waste transporters out there, so how do you know which one is right for your business?
Know Your Vendor Type
First, it's important to know what kind of vendor you need. Many types of industries produce hazardous waste, from medical waste and pharmaceutical waste to construction, education, and manufacturing. If your business produces a number of hazardous wastes, make sure the vendor you inquire with has experience in all of them.
Look For Key Services
Next, there are some key services that the best hazardous waste disposal companies provide. A quality vendor will offer these six services:
Identify wastes through sampling and testing
Transport the wastes to recycling and disposal sites
Prepare labels, manifests and other paperwork
Offer prompt pickups
Address any cost concerns you have
Assist you with packaging your waste so you can avoid fines and save money
Check For Licenses
All hazardous waste disposal companies must be licensed and regulated. To ensure this, check the California Department of Toxic Substances Control's Registered Hazardous Waste Transporter Database. The database provides information about when a transporter's registration expires, its registration number and location.
A registration is valid for only one year, so it's a good idea to conduct annual audits of vendors handling your hazardous waste.
Ask The Right Questions
Credibility, experience and flexibility are important qualities you should look for in a hazardous waste vendor. These questions can help you determine whether a company that you are considering fits the bill.
Can you provide documentation of compliance history, insurance coverage and qualifications?

What licenses and permits do you hold?

Are you financially sound? (Dun & Bradstreet report, Bank letter of credit, etc.)

Are you properly permitted for

hazardous waste transportation

, storage, treatment and

disposal of waste

at the facility?

How quickly are you able to remove hazardous waste?

Are you able to demonstrate a good, sound history of regulatory compliance?

Do you have personnel who are properly trained?

Are you able to provide a

statement of qualifications (SOQ)

?

Do you have procedures in place to deal with unknown chemicals?

Do you use subcontractors, and if so, are you able to identify which companies are used and for what activities?

Are you able to identify how the materials you handle will be managed?

Are you able to provide a list of references on past related projects?
Don't Settle For Less
Keep in mind that the best vendor isn't necessarily the least expensive one. Don't trade short-term cost savings for long-term liabilities. You don't want to be the top story in your news feed for violating hazardous waste laws.
No Offloading Allowed
Maintaining compliance with your cradle to grave requirements falls squarely on you as the generator. Your hazardous waste vendor cannot assume your responsibility to ensure that regulations are followed.
It's understandable that learning the ins and outs of the RCRA can feel time-consuming and challenging. However, if you're a hazardous waste generator, it's crucial that you take the time to do so.
The right disposal company can help you better understand your legal requirements, stay in compliance, and avoid significant fines and legal trouble down the road.