Am I Responsible For My Hazardous Waste After It Is Picked Up?
Hazardous waste management is a heavily regulated activity. It is critically important that companies understand both federal and state laws that govern hazardous waste management activities in order to minimize their liability stemming from the production of hazardous waste. The Resource Conservation and Recovery Act (RCRA), enacted in 1976, is the principal federal law in the United States governing the disposal of solid waste and hazardous waste. This groundbreaking legislation established the standards for the treatment, storage and disposal of hazardous waste.
The most notable provisions of the RCRA are included in Subtitle C, which directs theEnvironmental Protection Agency (EPA) to establish controls on the management of hazardous wastes from their point of generation, through their transportation and treatment, storage and/or disposal. The overall regulatory framework is known as the "cradle to grave" system. The program requires stringent recordkeeping and reporting requirements on generators, transporters, and operators of treatment, storage and disposal facilities handling hazardous waste.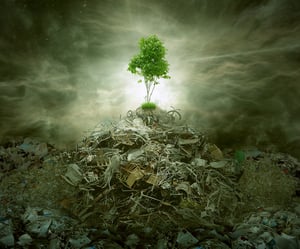 For waste generators to stay in compliance with RCRA, specific guidelines must be followed. As waste is created, it is important that employees of waste generators are properly trained on how to deal with hazardous substances. In addition to following proper safety procedures in order to avert catastrophic workplace accidents, workers must be sure to properly label substances as they are being stored onsite prior to disposal. One tool that is crucial to proper hazardous material handling is the material safety data sheet (MSDS). It is intended to provide workers and emergency personnel with procedures for handling or working with that substance in a safe manner, and includes information such as physical data (melting point, boiling point, flash point, etc.), toxicity, health effects, first aid, reactivity, storage, disposal, protective equipment, and spill-handling procedures.
In order to prepare hazardous materials for shipment, waste drums must be properly labeled with the substance or substances that will be shipped. A Uniform Hazardous Waste Manifest must be properly filled out. This manifest will travel with the hazardous materials from the point of generation, through transportation, to the final treatment, storage, and disposal facility (TSDF). Each party in the chain of shipping, including the generator, signs and keeps one of the manifest copies. This creates a "cradle-to-grave" tracking of the hazardous materials. EPA ID numbers are needed by all parties on the manifest. Hazardous waste transporters in California must be registered with the Department of Toxic Substances Control.
Once a hazardous waste transporter has picked up your waste, they have certain timeframes that must be met in order to maintain compliance including transport to the certified TSDF and the proper filing of the manifest. If your waste transporter does not maintain their timeframes, or worse the toxic substances are improperly disposed of, the waste generator maintains the ultimate liability. Waste generators are responsible for hazardous material from "cradle to grave."
It is crucial that waste generators work with licensed and certified companies throughout every step of the process, and understand where the materials are being disposed. If any part of the process falls apart, or the transporter dumps the substances in a hole in the ground, companies can be liable for significant fines.