A packing supply company receives an order from a client for a specialized packaging solution. The packaging company orders the supplies from a manufacturer and upon receiving them, begins the process of printing logos, artwork and other proprietary information on the packaging.
Rather than choose stock packaging - something many packaging supply companies have in bulk - the client preferred branded items, including product packaging and labels.
However, an unexpected glitch occurred during the customization process, leading to an error in the final packaging product.
Recognizing the gravity of the situation, the packaging supply company immediately began damage control measures, which included reprinting the branding on new packaging supplies and discarding the old supplies that could no longer be used.
The packaging supply company, worried about quickly resolving the printing mistake, simply discarded the no-longer-usable packaging in a nearby trash receptacle and moved on to fixing the current issue at hand. What the company didn't know, an unscrupulous character looking to make a quick buck took the packaging out of the waste receptacle and sold it to an "entrepreneur" who regularly sells lower-quality items on the grey market.
Consumers believe they are buying a quality product from a reputable manufacturer, but instead they are getting a lower-quality counterfeit product placed in packaging that to most consumers, looks almost identical to the packaging they normally see on store shelves.
Now the packaging supply company has an even bigger problem than the one it had before. The company didn't ensure its client's defective packaging was properly disposed of, and it's now lost the trust of the client … not because of the printing mistake, but because the packaging company didn't prioritize the proper disposal of branded materials.
How can your packaging supply company avoid this same nightmare scenario? The answer is through certified product disposal.
What Is Certified Product Disposal?
Certified product disposal, also known as certified product destruction, is a process that ensures products and branded packaging are destroyed or disposed of safely to ensure that they are not resold or utilized either illegally or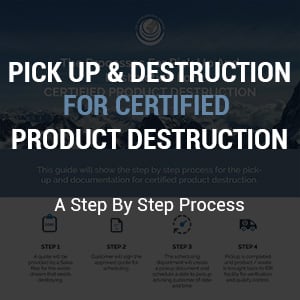 on the grey market.
The gray market is a term used to describe the sale or trade of a commodity through channels that aren't permitted by the original proprietor or manufacturer. The grey market is known for giving people a great deal on what they perceive to be branded products.
Consumers often believe they are getting an authentic product from a brand name. Instead, they are getting either an imitation product that is encased in branded packaging, or they are receiving legitimate items that aren't suitable for sale. The reasons behind this can vary, from being damaged to expired.
Products and product packaging can end up on the grey market in a number of ways, from employee theft or bribery to improper disposal. Once a manufacturer's products hit the grey market, there's little they can do. Yet if the company finds the cause behind this lapse in security is due to improper disposal by your packaging company, this poor customer service can forever damage your relationship with that client.
That's why many packaging supply companies used certified product disposal to ensure any branded products do not end up in the wrong hands.
Who Needs Certified Product Disposal?
Any type of packaging company can benefit from the use of certified product disposal if you have branded packaging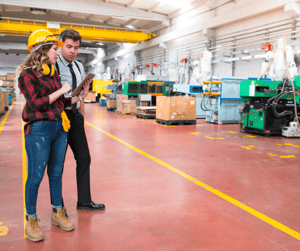 supplies in your possession. These supplies go beyond simply the outer packaging that encases a product.
Branded packaging materials often include:
Corrugated boxes or custom packaging boxes
Other packaging solutions that offer custom packaging design
Custom mailer boxes
Tissue paper
Larger custom boxes that hold many products for transportation
Product labels and stickers
Retail or shopping bags
Tags and shipping tape
Wrapping paper
Plastic bottles and pouches
Paper products
Personal care or product instructions
Inner packaging like inserts, dividers and cushioning materials
Among the industries that packaging companies often work with include food and drink, beauty and cosmetics, medical and more. Your packaging company may also need product destruction services if you're in possession of products that:
Expire while waiting packaging
Must be destroyed due to a court order
Have unexpectedly been discontinued
Have been recalled due to a defect
Now must be packaged using new branding and you must discard of the outdated branded packaging products
Manufacturers often use certified product disposal as well to take care of damaged goods, discontinued products, manufacturing overruns and promotional merchandise no longer needed.
What Should A Certified Product Disposal Company Offer?
A certified product disposal company should provide you with authentication that gives you the confidence that any packaging or products you are turning over do not end up in the wrong hands.
A product destruction company accomplishes this through a strict chain of custody and a customized plan for your product packaging company's needs. The best disposal company will present you not only with a written plan, but photographic or video evidence of destruction as well.
A disposal company should also:
Obtain the necessary paperwork and permits
Complete a Certificate of Destruction form
Have 24/7 surveillance in its disposal yards
Be certified, licensed and bonded
Provide a detailed and transparent plan
Be experienced in disposing the type of product or packaging that your company provides
A packaging supply company's efficient response to any kind of unexpected disposal need confirms its commitment to client satisfaction and product integrity. By promptly addressing the situation and taking needed measures to prevent potential misuse, a packaging company can demonstrate its dedication to maintaining the highest standards within the packaging industry.