If your business produces large amounts of cardboard box waste, you likely already know that traditional methods of recycling simply won't work.
If you're scrambling to find a solution, you're not alone. In fact, about 90% of old corrugated cardboard (OCC) ends up in the solid waste stream comes from the commercial or non-residential sector, according to the U.S. Environmental Protection Agency.
While most individuals only receive a handful of boxes delivered to their doors every month, businesses can generate an astonishing amount of corrugated cardboard waste:
Small convenience stores: 700 to 1,000 pounds/month
Hospitals: 5 tons per month
Department stores: 8 to 20 or more tons per month
Grocery stores and supermarkets: 8 to 30 or more tons per month
Packaging companies often have a hefty supply of cardboard boxes on hand as well, often used to transport several different types of products to their next step in the supply chain or to package the consumer goods themselves.
If you fall into one of these categories and you're looking for a solution on how to dispose of cardboard boxes, a certified disposal company is one of the safest and most cost-effective solutions. An experienced company will remove large amounts of cardboard waste and dispose of it legally and safely.
If you aren't sure whether your business needs disposal services for the cardboard waste you generate, here are three indications it may be time to call in the help of a disposal company:
Your recycling bin is too small
Your packaging is branded
You have multiple waste streams
1. Your Recycling Bin Is Too Small
It's not uncommon to see a trash receptacle and recycling bin located outside of a business. In fact,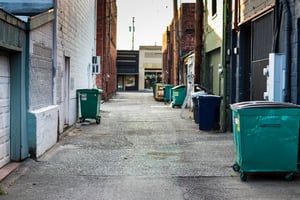 companies will often set up an account with a local waste management service that provides a service schedule depending on the terms of the agreement.
However, if your company regularly generates cardboard box waste, your recycling bin may not offer enough storage until the next time your waste management service visits. Having multiple receptacles on site can be costly and take up quite a bit of space.
If you're a packaging company tasked with handling the packaging for multiple clients, it's highly likely you have additional items that are recycled as well on a regular basis, including cardboard inserts, paper and packaging that is either outdated or contains flaws that prevent it from being used.
Storing excess waste like this on site can create a fire hazard, or at the very least take up expensive warehouse space. A disposal company will ensure cardboard waste is quickly removed on a regular schedule that fits your timeline.
2. Your Packaging Is Branded
If the cardboard boxes in your possession are branded in anyway, you now have additional concerns to consider. Packaging companies often work with different clients and are responsible for the packaging of their products.
The manufacturer may ship these products to the packaging companies in boxes that feature the company's logo or other company information. When packaged products are shipped to the end user, such as a retail site, these products may also be shipped in cardboard boxes that feature a company's logo.
Here's why improper disposal of these boxes becomes a problem for a packaging company. A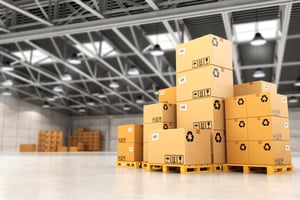 packaging company is often the one responsible for ensuring that any component of the packaging that is deemed unusable or unsellable is properly destroyed. This may include the outer layer of shipping boxes or any product packaging itself.
Why is this important? It's possible that an employee or unscrupulous disposal company (or anyone willing to dig through the trash) may steal product packaging, insert their own counterfeit product, and sell it on the grey market. The grey market offers people great deals on what they believe are legitimate products. Instead, they're getting damaged, blemished, expired or counterfeit products that can tarnish a brand identity.
For a packaging company, that means your reputation is on the line as well. If, for example, the company you work with has updated its package design and any new cardboard boxes or packaging now feature the company's new logo, you are responsible for discarding any of the old packaging. An individual looking to make a quick buck can easily sell a knock-off product inside the old packaging. A consumer is none the wiser, but the product manufacturer will be…and will hold you accountable.
A certified product disposal company will protect your business from legal issues and ensure any cardboard boxes that contain branded information are properly destroyed. In fact, the best disposal companies will provide photographic or video evidence of the destruction.
3. You Have Multiple Waste Streams
If you're like many businesses, you may have multiple waste streams. For example, hospitals often have to arrange services that dispose of medical waste, hazardous waste, non-hazardous waste and pharmaceutical waste.
Many industries deal with a variety of waste as well, from electronic waste to hazardous waste. Businesses and packaging companies often must find answers for certified product disposal and even at times hazardous waste depending on the product.
Arranging a solution for each type of waste can be a logistical nightmare.
The best disposal companies will not only be able to manage all of your waste streams, but be an expert in each of them. Each type of waste has its own set of regulations both at the state and national levels. It's important that the disposal company you work with has knowledge of these regulations and how they impact your specific type of business.
Five additional services you should look for in a disposal company include:
The ability to identify waste streams through profiling and testing
The development of site-specific plans that include training and emergency preparation
The ability to transport to recycling and disposal sites
The knowledge needed to prepare a manifest correctly, as well as any other state and federal paperwork that is required
The ability to provide proof that your waste streams were properly disposed of, whether through documentation, video or other sources
Another highly desirable quality in a waste disposal company is the service of a hazardous waste walk-through. Even if your business only generates non-hazardous waste or waste that can be recycled such as cardboard boxes, a walk-through can take a second look at your processes to ensure your waste management is as efficient as possible.
Box It Up
If your company is a large producer of cardboard box waste, tossing it into the trash or recycling bin simply isn't an option.
Businesses like packaging companies, hospitals, and retail and grocery stores are large generators of cardboard waste and often rely on a team of waste disposal experts to ensure their waste is quickly and safely removed.
Working with a certified and licensed disposal company with a stellar reputation will provide you with the assurance you need that your waste management plan is up to date and efficient. For more advice on how and why you should avoid improper disposal, check out our article, Does Your Packaging Company Have This Crisis?