As technology advancements continue to propel the clean energy industry, it's important for manufacturers to ensure they are prepared for changes in all areas of production.
Across many industries, waste management plays an important role in the production process. Focusing on waste prevention and proper disposal can often help companies ensure adherence to federal and state laws, reduce their reliance on natural resources, and even cut costs.
As the clean energy industry continues to expand, many companies are finding ways to enter the marketplace or take advantage of new innovations in order to grow their business while doing their part to protect the environment.
Most recently, the U.S. Environmental Protection Agency announced a new innovative effort to bring new chemicals used in the electric vehicle, semiconductor and clean energy sectors to market. The move is the latest example that shows how clean energy sectors are evolving, but also conveys the need for manufacturers to be able to adapt all areas of their operations with these changes.
Streamlined Review Of New Chemicals
The effort launched by the EPA and under the Toxic Substances Control Act will streamline the agency's reviews of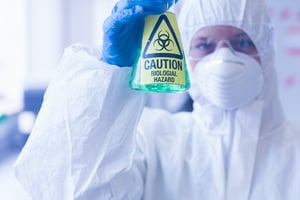 new chemicals that have applications in batteries, electric vehicles, semiconductors and renewable energy generation.
The EPA's New Chemicals Program reviews all new chemical substances before they enter the marketplace in an effort to avoid harming human health or the environment. This new process specifically addresses certain chemistries including mixed metal oxides (MMOs), including new and modified cathode active materials (CAMs).
MMOs are a key component in lithium-ion batteries, which are used in electric vehicles. New MMOs are also used for semi-conductors, as well as renewable energy generation and storage such as solar cells and wind power turbines. They typically include lithium, nickel, cobalt and other metals.
Under the Toxic Substances Control Act, manufacturers of new chemical substances must provide the EPA with notice before initiating the activity by submitting a Premanufacture Notice (PMN). The EPA then fully assesses all the potential hazards and exposures of the new chemical substance to address any risks before it can enter commerce.
This new streamlined approach to evaluating MMOs will allow manufacturers to boost production while still evaluating the impact on human and environmental health.
How Waste Management Is Impacted
This new streamlined review process is good news for manufacturers but also stresses the need to have a waste management system in place that can easily adapt to new changes.
As manufacturing processes are updated, hazardous waste management plans will need to be reviewed. This includes the processes by which you store and transport any hazardous waste to the appropriate disposal facilities.
It's critical to never cut corners and to be on top of how any regulatory and internal production changes could impact how your company is required to dispose of its waste. Many companies like Ulta Beauty and Exide have found themselves on the wrong end of the law by not ensuring their hazardous waste is transported and disposed of according to federal and state laws.
This most recent streamlining initiative announced by the EPA is just one of several that have occurred or are on the horizon. Earlier in 2022, the organization announced a similar effort to streamline the review of dozens of PMNs for biofuels that could be used instead of higher greenhouse gas emitting transportation fuels. Since then, the EPA has completed about 95% of all biofuel PMNs submitted, according to the EPA.
As industry standards and the push for the use of more eco-friendly substances continue to evolve, it's important to understand how these changes will impact all aspects of your operations, including waste management.
How A Hazardous Waste Disposal Company Can Help
If your company is experiencing changes in production or in the chemicals or substances it uses, one of the greatest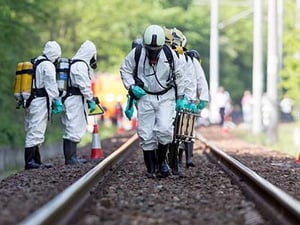 benefits a reputable hazardous waste disposal company can offer is a hazardous waste walk-through program. In other words, the best disposal companies can help you before transportation of your waste ever takes place.
A hazardous waste walk-through program is consultative in nature and helps to ensure your company is equipped with the tools and procedures it needs to make sure proper disposal occurs.
This service evaluates your hazardous waste procedures, allowing for potential issues to be caught before they become costly mistakes. This is especially important if you are experiencing any changes in your production at all that could impact how you dispose of your waste.
A walk-through also ensures that your company and employees are protected and in legal compliance with transport areas like waste manifesting, proper labeling procedures and emergency readiness.
In addition to offering a hazardous waste walk-through program, the best disposal companies will:
Identify uncertain waste streams through profiling and testing
Evaluate your waste streams to determine which can be reclassified as non-hazardous waste, saving your company money on disposal fees
Develop site-specific plans that include training and emergency preparation
Transport your waste to the proper recycling and disposal sites
Prepare a manifest and any other paperwork required
Offer evidence that your waste has been properly dispose of at the treatment and disposal facility
When choosing a waste disposal company, ensure that the business has all of the appropriate licenses, including its Motor Carrier Permit, DOT Hazardous Material License and DTSC Transporter Registration.
Most importantly, never use a broker to find you a hazardous waste disposal company. Brokers will call hazardous waste transportation companies to get a price from them for your disposal, but will then mark up the price before sending it to you for approval. You will also have little knowledge of the company handling your waste, which is a gamble on your part and could put your business at risk.
You can read more about why it's important to choose a reputable hazardous waste disposal company yourself rather than rely on a broker in our article, Hazardous Waste Transporters Vs. Brokers.