Medical waste is a serious issue. Used items contaminated with bodily fluids, blood, disease and other hazardous substances carry the danger of infecting other people.
Biological substances, such as vaccines, pose many threats as well. In addition, pharmaceuticals cause harms ranging from environmental to physical to psychological, especially with the ever-increasing problem of addiction.
It should go without saying that proper disposal of medical waste is of utmost importance today. As with so many types of waste, however, this is easier said than done. Following regulations and ensuring that items land safely in treatment centers or disposal sites is a responsibility we all share.
Here's a quick rundown of California's medical waste disposal regulations.
Types of Hazardous Waste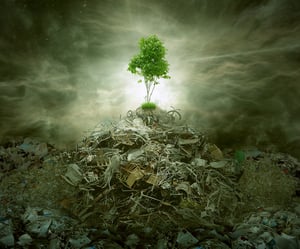 There are two main categories when talking about hazardous waste: hazardous and non-hazardous. Hazardous waste is that which is flammable, corrosive, reactive or toxic. Non-hazardous is anything else.
Both are governed by the Resource Conservation and Recovery Act, "public law that creates the framework for the proper management of hazardous and non-hazardous solid waste. The law describes the waste management program mandated by Congress that gave EPA authority to develop the RCRA program. The term RCRA is often used interchangeably to refer to the law, regulations and EPA policy and guidance."
The EPA offers different guidelines for hazardous and non-hazardous waste, delineating their:
Transport
Management
Identification
Listing
Permitting
Disposal
… and more. It's important to note that simply because something isn't classified hazardous waste doesn't mean it's not subject to restrictions, which medical waste of all types certainly is. It is also important to note that if a substance contains even a little bit of hazardous waste, it is itself considered hazardous.
Types of Medical Waste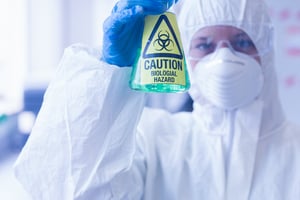 Not all medical waste is hazardous. For instance, plenty of medical waste is neither flammable, corrosive, combustible or toxic, but is still dangerous because it is pathogenic. The main categories of medical waste include:
Radioactive medical waste (isotopes are often used to help physicians diagnose illness, for instance)
Hazardous medical waste (falling into the four main hazardous categories)
Infectious medical waste (from vaccines, stored pathogens or used supplies that contain pathogens picked up from a person), also referred to as biohazardous or biomedical waste
Pharmaceutical waste, which contains substances that might harm the environment or, if still in their original form, can pose a risk of others taking/ingesting them
General medical waste, which may be none of the above
How to Safely Collect Medical Waste
California has extremely strict requirements detailing the collection and disposal of medical waste. It's critical that you understand each category you're dealing with, as well as the requirements for storage, before you implement a medical waste disposal program. That requires a system.
1. Separate medical waste into different waste streams according to the above categories.
2. Create designated medical waste stations with clear labels. For instance, those for biomedical waste should have the biohazard symbol on them.
3. Train all employees on where to put their medical waste.
4. Bag bins when full, adhering to California's codes for labeling and storing.
Once you have a clear system set up, you can then store your waste onsite until you send it to a medical waste provider to dispose of it. Of course, that assumes you have an excellent partner in disposal … so let's talk about that next.
Finding a Hazardous Waste Disposal Partner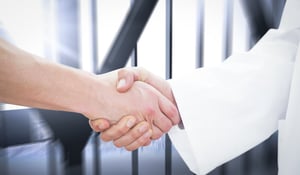 The best bet is to find yourself a hazardous waste disposal partner who understands the rules inside and out. That way, you can rely on them to stay up to date with current regulations and make changes accordingly – while you continue to do the work you were made to do.
Here are some things to look for:
A company free of hazardous waste violations: Seem like an obvious point? It's not necessarily; many honest medical providers are tricked into low-budget, dishonest disposal companies with violations on their record. Don't become blinded by affordability, and always check a company's record before you sign on.
Check for financial soundness: A good hazardous waste disposal company will provide documentation to prove their reliability.
Insurance coverage: You can't guarantee there won't be an accident, which is why your medical waste disposal company needs licensing and insurance to keep you out of trouble, should the worst occur.
Clear instructions about how and when they handle waste: Look for a company that will give you all their regulations and procedures upfront, so that you can ensure they align with your expectations.
You can learn more about what to look for in a hazardous waste disposal company in our previous article.