Hazardous Waste Disposal in Los Angeles is Number 1. Not the Lakers or Dodgers.
Los Angeles used to be ranked the number one city based on the Lakers or Dodgers, but now hazardous waste disposal has placed Los Angeles in the number one spot in California.
According to rtknetwork.org, which is a project of Center for Effective Government that compiles data on the hazardous waste industry, Los Angeles generated 88,593 tons of hazardous waste material in 2011. Following closely is San Francisco with 85,163 tons, then Pittsburg, no not that Pittsburgh, at 80,491.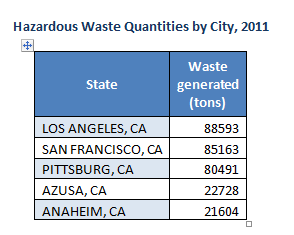 While California remains one of the largest hazardous waste generators of hazardous waste in the United States, it currently ranks 11th out of the 56 states and territories that the data represents for 2011. However, it is far from the worst. The grand old state of Texas is the bad boy on the block when it comes to the amount of hazardous waste generated. In 2011, Texas generated 15,683,408 tons of hazardous waste, which is a whopping 15,122,303 tons more than California's 561,105.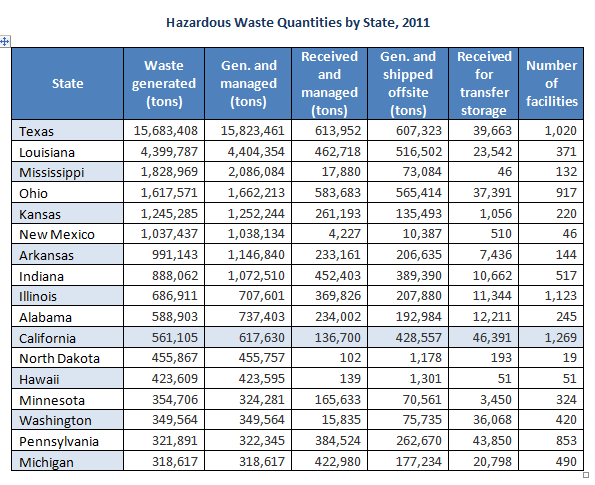 So what materials are responsible for all this hazardous waste? You may be surprised by what the data shows.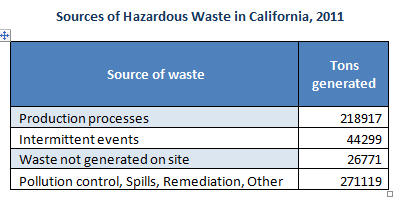 With California being ranked as the second biggest state in the continental United States, then why is California only ranked 11th out all 56 states and territories? There are probably several reasons for this, but one of the main reasons is that California is one of the most heavily regulated states in the country, if not the most.
This fact alone has forced many companies, who generate hazardous waste, to leave the state for less regulated pastures. The added expense of those regulations and the staff needed to ensure proper compliance, has become too cost prohibitive. Many businesses have decided to outsource their hazardous waste management to reduce their fees and more importantly reduce their liability.
Many of these statistics do not include items related to certified product disposal.
So for those companies who still do business in California, and for businesses that are looking to move to California and set up operations, it is imperative to know how California's hazardous waste regulations can affect your business. Especially, when it comes to DTSC Fines and the scrutiny you will be under.
Assuming that your own state's hazardous waste regulations will carry over to California can and will be an expensive mistake. California is well-known as the Golden State, but we are also known as the land of fruit and nuts. When it comes to knowing what hazardous waste regulations a business needs to adhere to... well, I'll leave it to you to know which part fruit and nuts applies to!