A Central California water company is the latest organization to find itself in hot water with state regulators as it settles a complaint for improperly disposing of hazardous waste. California American Water will pay a $390,000 penalty for improper hazardous waste removal of arsenic extracted from three local water systems in a settlement agreement with state regulators.
California American Water is a local water and wastewater company that serves 630,000 residents in 50 communities in the state. Cal Am Water is regulated by the California Public Utilities Commission.
Improper Disposal of Arsenic Sludge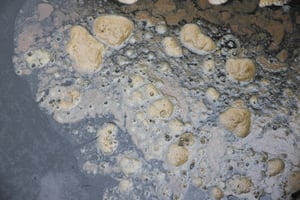 The complaint stems from an anonymous tip given to the State of California Department of Toxic Substances Control (DTSC) which launched an investigation into the activities of Cal Am Water.
Cal Am director of operations Eric Sabolsice confirmed the company has taken responsibility for improper disposal of the hazardous waste, which consisted of naturally occurring arsenic removed from the company's Ryan Ranch, Ambler and Toro water systems. Sabolsice said Cal Am had been sending the waste to the Marina landfill, which is not licensed to handle such material, from 2008 to early last year when the violations were discovered.
Sabolsice said the violations occurred due to incomplete testing of arsenic levels, and said that new protocols are now in place to deal with the waste, which is transported to a disposal site in Nevada.
"We understand this is a very serious violation and have taken substantial steps to make sure this never happens again," Cal Am spokeswoman Catherine Stedman said. "This failure to follow proper procedure is very serious to us."
(Source:

Monterey Herald

)
Cal Am Commended For Taking Swift Action
According to media coverage of the story, Cal Am took quick responsibility for the mistakes and settled the complaint not long after it was filed with the Central California courts.
DA Dean Flippo commended Cal Am for "immediately" taking responsibility upon being notified of the violations by the county Health Department's Environmental Health Bureau, including action to begin handling the waste properly and prevent future violations, and working with his office to resolve the case. He noted that Cal Am had hired new state and local environmental compliance staff, and implemented statewide procedures for managing treatment plant waste.
Cal Am's penalty includes investigative costs and a $60,000 supplemental environmental project award to the California District Attorneys Association Circuit Prosecutor Project to aid rural DAs in prosecuting environmental crimes. Stedman said Cal Am shareholders will pay the penalty, not ratepayers.
Cal Am began treating groundwater in the three local systems to remove arsenic in 2008 after allowable levels of the substance in drinking water were lowered.
Companies must be aware of the proper procedures for handling hazardous waste. State and federal regulators have become increasingly vigilant in filing complaints against hazardous waste violators. Settlements have been growing steadily this year.
It is important to understand your obligations, and to work with a hazardous waste company that understands the complicated laws particularly in a challenging regulatory environment like the State of California. Take a moment and download our FREE eBook "Handling Hazardous Waste" to stay out of hot water with the state.