Sometimes you think you're doing everything right. You're complying with local and state disposal laws and doing your best to reduce your facility's environmental impact, only to find out you've got contaminated soil on your hands.
You contracted with a disposal company to deliver containers of this soil to a dumpsite only to have the site test the soil and deliver the bad news: The results come back positive for substances you must treat as hazardous waste.
Now, you have to act fast and have that contaminated soil transported from the landfill to the appropriate facility where it can be properly treated before disposal of the hazardous materials takes place. You also need to rethink your soil removal strategy at your facility.
This is a lot more than you bargained for when you planned the project or excavation. The good news is we have 6 tips that can alleviate the risk of contaminated soil removal and prevent your project from becoming a costly nightmare. The specific 6 tips are further down the page, but first, we need to understand what contaminated soil is.
What Is Contaminated Soil?
Contaminated soil is most typically found in urban areas or around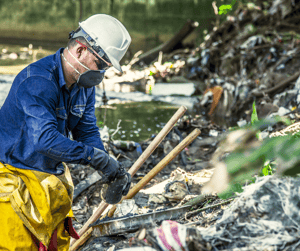 significant human developments. It contains ecologically-harmful substances that exceed what might be found in nature.
For example, arsenic and radon are naturally-occurring materials. If the amount is within the naturally occurring range for that area, then tests will not come back positive for hazardous waste, even though arsenic is present.
In other words, aside from a natural disaster, you generally can't or shouldn't blame a natural occurrence for soil contamination. The tests consider that.
Common soil contaminants that may have triggered your need to treat your soil as hazardous waste include:
Some pesticides

Petroleum-based waste (fuel, micro-plastics, asphalt)

Radon

Asbestos

Lead

Chromated copper arsenate

Creosote

Volatile organic compounds like toluene and trichloroethylene
Any of these materials found in the environment can harm the ecosystem and contaminate the groundwater that people, livestock, companion animals and wild animals may drink.
With that said, the EPA excludes specific hazardous waste from receiving a contaminated label even though it does pollute, mainly because as long as humans exist, some pollution is inevitable with current technologies:
Originated in a household

Agricultural (as long as they don't use banned contaminants)

Fossil fuel combustion

Certain mining and mineral processing
In California, the Department of Toxic Substances Control (DTSC) is tasked with enforcing California hazardous waste laws and working with each facility to provide them with the information needed to reduce these contaminants and pollution in the first place.
It's important to realize that it is within the right of the state of California to demand higher standards of those who do business in California, so if you're unsure about whether the soil you're working with at your facility could be considered contaminated, it's critical to get a professional opinion.
Could You Have Contaminated Soil?
According to the EPA, contaminated land and groundwater can occur in many ways, like:
Manufacturing runoff
National defense testing
Storage tank leaks
Spill accidents
Improper runoff processes
Past mining operations
Shoddy cleanup of a known contamination
Natural disasters like the one that devastated Fukushima Nuclear Power Plant
Factories, junkyards, waste disposal sites, gas stations and auto service centers are likely to have runoff that contaminates nearby land. If you just purchased the land where one of these stood, or it's your next-door neighbor, then your land may be contaminated.
If you are unsure if your soil is contaminated, ask a hazardous waste disposal company to do a walk-through for you and test to see if you have a problem.
6 Tips For Contaminated Soil Disposal
Cutting corners or pleading ignorance to information that is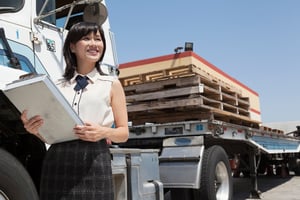 available doesn't work when we're talking about contaminated soil disposal. Improper disposal can lead to stiff fines and bad publicity that start to gnaw at the bottom line, so take these steps.
Know before you send. If you haven't tried to take it to a regular disposal site, that's a good thing. You'll save time and money by making sure you don't have contaminated soil before you load and haul it. On top of that, in the state of California, it's illegal for a non-certified person to transport hazardous waste.
Only work with certified companies. Find a company with a valid hazardous waste transporter registration with the Department of Toxic Substances Control (DTSC).
Determine if you're a small quantity or large quantity generator. Note: Small generators are not exempt from hazardous waste laws in California.
Avoid hazardous waste brokers. These are unqualified "middlemen" who drive up your costs and create roadblocks by putting themselves in between you and certified hazardous waste disposal companies under the disguise of helping you. They often show up high in Google paid ads, leading a company to believe they're the professionals. Ask them if they are the disposal company. Brokers can add on as much as 400% of the disposal cost an actual disposal company would charge you.
Work with transporters directly. Instead, you're looking for a licensed hazardous waste transporter, also called a hazardous waste disposal service. And it's certainly nice to work with a company that can also dispose of

non-hazardous waste

like soil and other industrial waste that isn't contaminated.
Ask a disposal company for a walk-through and hazardous waste determination. A licensed contaminated solid removal company can help you identify unknown waste streams and reduce them, test and classify soil as non-hazardous if that's the case (so you don't pay for hazardous waste removal if you don't have to), develop a customized soil transportation plan, complete regulatory paperwork, handle the transport and provide you with proof of proper disposal for your records.
These six tips will help you have peace of mind knowing you correctly disposed of the contaminated soil … protecting the environment, people and your bottom line.