The last thing that you want to do is get a phone call in the early hours of the morning letting you know that the facility you manage had a catastrophic explosion.
The building is destroyed, there are casualties and the surrounding community has been affected.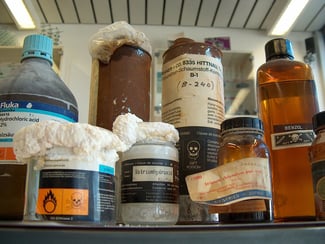 Managing the chemicals stored in your warehouse, manufacturing facility or laboratory is serious business. If they are not handled and stored properly, you could have a "bomb in your facility.'
In order to help you avoid a catastrophic situation we have put together this Top 10 list of best practices for the proper chemical storage.
Top 10 Best Practices for Proper Chemical Storage
Segregate – Ensure that all incompatible chemicals are stored separately and by hazard class codes. Store like chemicals together and away from other groups of chemicals that might cause reactions if mixed.
Use Proper Storage Cabinets – The use of proper storage cabinets should be used particularly for flammable materials
Contain Liquids - Liquids should be stored in unbreakable or double-contained packaging, or alternatively in a storage cabinet that has the capacity to hold the contents if the container breaks.
Avoid the floor – Chemicals should never be stored on the floor (even temporary).
Keep It Eye Level – Chemicals should be stored no higher than eye level and never on the top shelf of a storage unit.
Anchor's Away -Shelf assemblies should be firmly secured to the walls. Avoid island shelves.
Slow Your Roll - Each shelf should have an anti-roll lip.
Label Properly – All chemicals should be labeled with Material Safety Data Sheets (MSDS) so that those working with or handling these substances are aware of the chemical properties. Labels should also contain expiration dates.
Remove Expired Chemicals – Hidden away in cabinets and storage areas are expired chemicals. Big regulatory fines await if you do not remove these substances.
Inspect Constantly - Look for the following unusual conditions in chemical storage areas:
improper storage of chemicals

leaking or deteriorating containers
spilled chemicals
temperature extremes (too hot or cold in storage area)
lack of or low lighting levels
blocked exits or aisles
doors blocked open
lack of security
trash accumulation
smoking or open lights or matches
fire equipment blocked, broken or missing
lack of information or warning signs ("No Smoking", "Flammable Liquids", "Acids", "Corrosives", "Poisons", Chemical Storage")
Conclusion
It doesn't have to be complicated, a workable plan and diligence on the part of management and employees can keep everyone safe. Ensure that those employees that handle hazardous chemicals are well-trained and supervised.
Follow these best practices and keep everyone safe.
You don't want to be in charge, and get that phone call.