Regulations can often feel stifling to a business. When it comes to hazardous waste, they're necessary in order to ensure safety during the removal and transportation of the waste.
But to a business, especially one that is a larger generator of hazardous and non-hazardous waste, making sure all regulations are followed can be frustrating and costly.
However, if you're a company looking for ways to ease some of the burdens that properly managing your hazardous waste presents, there's good news. More companies are evaluating their hazardous and non-hazardous waste streams and finding that some of that waste can be recycled.
By taking advantage of these recycling opportunities, not only may your status change to a smaller generator of hazardous waste, you could save money in doing so.
Why You Should Consider Recycling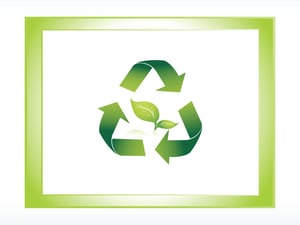 Most people think of recycling as receptacles in your office or home that hold soda cans, bottles and computer paper. Recycling has become so ingrained in so many of our lives, it's no longer considered a movement. It's simply an everyday part of life.
But one area that many companies overlook within their hazardous waste management programs is recycling hazardous waste materials. In fact, there are certain chemicals, substances and by-products that are classified as hazardous waste materials that can be recycled.
By recycling these substances instead of simply removing them as part of your hazardous waste streams, you can realize significant cost savings and lower regulatory compliance thresholds.
How Hazardous Materials Are Recycled
There are many different hazardous waste streams that can be reclaimed and converted into usable products in order for your company to take advantage of the benefits of recycling.
Here are a few examples:
A solvent recycling facility can distill or purify a waste solvent and then sell the product for reuse.
Fuel-blending facilities accept flammable wastes, blend them together to precise specifications, and then sell the mixture as fuel for cement kilns or incinerators.
Used oil recycling facilities clean and re-sell oil.
Other facilities even can recycle batteries, fluorescent light bulbs, valuable metals and electronic scrap.
Facilities known as Treatment Storage and Disposal Facilities (TSDFs) obtain permits for operation through the Resource Conservation and Recovery Act (RCRA) of 1976. These facilities come in many shapes and sizes, and are heavily regulated by the Environmental Protection Agency (EPA).
Though they perform a variety of functions, their primary role is to recycle wastes into usable products.
Before companies like yours can benefit from the recycling of hazardous wastes, a TSDF must first approve the waste streams. To do this, companies submit samples to a TSDF to determine if the substances can be effectively recycled.
What Makes A Substance An Excluded Material
An important step in being able to realize the benefits of recycling hazardous waste streams involves obtaining a new classification for your waste materials.
Once a TSDF has evaluated a substance, the facility can declare it appropriate for recycling and certify that it qualifies under the excluded recyclable materials exception. Once this occurs, the approved waste streams can be re-classified as "excluded materials" and considered non-hazardous waste disposal.
This means the materials then can be excluded from hazardous waste classifications and/or hazardous waste management standards. This is an extremely important distinction since these substances are no longer included in the monthly hazardous waste measurements for hazardous waste generators.
In fact, for many businesses, this can mean a change in the company's generator status from a large generator of hazardous waste (more than 1,000 kg of hazardous waste per month), to a small generator of hazardous waste (greater than 100 kg per month to less than 1,000 kg per month).
With this change in status, companies can realize significant cost savings since a reduction of EPA regulation requirements typically results in an increase in profitability.
How Regulations Continue To Change For Industrial Waste
Just a few years ago, the EPA modified regulations so that solvent contaminated wipes - either disposable or reusable - could be conditionally excluded from being managed as hazardous waste.
These wipes are commonly seen as cotton rags or paper wipes that carry the RCRA codes of F002 through F005 (except for trichloroethylene) and any characteristic code that is the result of one of those solvents.
As time and technology evolve, so will regulations. It goes without saying that specialized knowledge is required in order to keep up with any changes on the federal and state level.
Not complying with these regulations can lead to costly fines - which can be devastating to a company that is missing out on an opportunity to save costs through recycling opportunities.
That's why consulting with a qualified and licensed hazardous waste management company can help ensure your company stays up-to-date with any regulations that could impact the disposal or recycling of your hazardous and non-hazardous waste streams.
A qualified company will work with you to identify a variety of substances, and will have the expertise to determine if your waste streams qualify for this type of reclassification and money-saving options.
Image Credit: Photo by Alan Levine | Public Domain