If you live in California, earthquakes are a fact of life. According to the National Earthquake Information Center (U.S.) there are 12,000-14,000 earthquakes a year around the world, or 35 a day. Throughout the world, there is one "great" (magnitude 8.0 or more), 18 "major" (7.0-7.9), 120 "large" (6.0-6.9) and 1,000 "moderate" (5.0-5.9) earthquakes in an average year.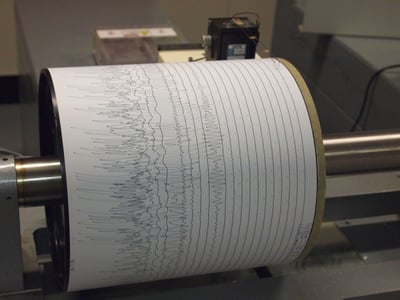 There are hundreds of identified faults in California; about 200 are considered potentially hazardous based on their slip rates in recent geological time (the last 10,000 years). More than 70 percent of the state's population resides within 30 miles of a fault where high ground shaking could occur in the next 50 years. (Source: California Department of Conservation)
The State of California generally gets two or three earthquakes large enough to cause moderate damage to structures (magnitude 5.5 and higher) per year.
For most Californians, the underlying concern is not whether we will have a significant earthquake in the near future, but when and where it will occur.
California's earthquake history has shown that the danger isn't just from building and structure collapses or flying objects, but also from gas leaks and hazardous materials that can ignite as a result of an earthquake.
Is your business ready for "The Big One"?
If you operate a business in California that operates with toxic chemicals and generates hazardous waste, it's crucial that you prepare for when the next "big one" hits.
What is a Hazardous Materials Business Plan
Per the California Health & Safety Code (H&SC), the State of California requires any business that handles/stores a hazardous material or a mixture containing a hazardous material, to establish and implement a Hazardous Materials Business Plan (HMBP) for Emergency Response to a release or threatened release of a hazardous material.
There are two primary purposes of the HMBP requirement:
To provide basic information necessary for use by first responders in order to prevent or mitigate damage to the public health and safety and to the environment from a release or threatened release of a hazardous material
To satisfy federal and state Community Right-To-Know laws
The Hazardous Materials Division (HMD) of the Department of Environmental Health (DEH) is the local Certified Unified Program Agency (CUPA) responsible for implementing and enforcing California state hazardous materials laws and regulations related to the unified programs.
HMD periodically conducts inspections to:
Ensure compliance with existing laws and regulations including HMBP requirements.
Identify existing safety hazards that could cause or contribute to an accidental spill or
release.
Suggest preventive measures designed to minimize the risk of a spill or release of
hazardous materials.
Requirements to File an HMBP
The State of California requires an owner or operator of a facility to complete and submit a HMBP if the facility handles a hazardous material or mixture containing a hazardous material that has a quantity at any one time during the reporting year equal to or greater than:
55 gallons of a liquid
500 pounds of a solid substance
200 cubic feet of compressed gas
A hazardous compressed gas in any amount (highly toxic gases with a Threshold Limit Value (TLV) of 10 parts per million or less)
Extremely hazardous substances in threshold planning quantities as defined in 40CFR Part 355
How Do I File a HMBP?
The State of California developed the California Environmental Reporting System (CERS) for businesses to use to submit their HMBP. By submitting the HMBP through CERS, businesses will fulfill the information requirements of the HMBP including:
Business Activities of the Unified Program Consolidated (Title 27, Section 15600 (a))
Business Owner/Operator Identification
Hazardous Materials – Chemical Description. The CERS database will require all state and federally required inventory information and will meet state and federal reporting requirements.
An Annotated Site Map. Contact your local UPA to determine any specific requirements for submittal of the emergency response plans and procedures, training program information, and additional information.
If you generate hazardous wastes in any quantity in California, you are required to prepare an emergency contingency plan or be subject to a fine from the California Department of Toxic Substances Control (DTSC).
Since the Hazardous Materials Business Plan (HMBP) goes beyond the Emergency Contingency Plan (ECP), proper completion of the HMBP meets the requirements of an emergency contingency plan.
Most important of all, a Hazardous Materials Business Plan serves to better prepare emergency response personnel for handling any emergency which could occur at your facility as a result of an earthquake.
Make sure you understand your requirements. The State of California Office of Emergency Services has published a Frequently Asked Questions document that can be downloaded to help you understand your obligations.