For manufacturers and industrial companies in Southern California, one of the most important aspects of industrial cleaning is the proper maintenance of storage tanks. Whether your firm is in food processing, packaging, cosmetics, oil and gas refining or pharmaceuticals, storage tanks are an important part of the manufacturing process.
Why Do My Tanks Need to Be Cleaned?
There are many reasons why your tanks may need to be cleaned on a regular basis. Contamination from foreign substances, a bad batch, a product change or reformulation or just as a part of your regular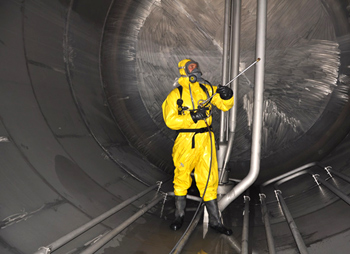 periodic maintenance, are just a few of the many reasons why periodic or emergency cleaning is necessary.
Depending on the type of tank that you have and its usage, over time, sludge and scales can build up on the tank's walls and baffles.
The accumulation of debris can reduce the efficiency from the tank and pose potential environmental hazards. Tanks can become contaminated from the introduction of organic and inorganic materials such as dust, dirt, chemicals, rodents and animal fecal matter………..Yikes!! You get the picture.
Regular cleaning of your commercial storage tanks is a vital part of its regular maintenance and is necessary in order to ensure that your tanks stay in good operating condition.
Hire a Professional Industrial Cleaning Company
Cleaning of commercial tanks can often be a dangerous and sophisticated job. Because of the risks involved it is a task that shouldn't be assigned to ordinary or inexperienced personnel. Instead, find a qualified vendor that serves your local business community.
There are a variety of methods for cleaning storage tanks and decontamination services. When interviewing potential candidates it is important to inquire as to the methods that the company employs and the types of chemicals that are used in the cleaning process. Many industrial cleaning contractors utilize specialized equipment and technology to completely clean storage tanks.
Look for companies that have a long track record of safety and use bio-degradable cleaning agents when possible to reduce the amount of hazardous waste generated in the cleaning process.
If your company generates hazardous wastes as part of your manufacturing process, it is also advisable to work with an environmental company that is properly licensed and up-to-date with all EPA and California Department of Toxic Substances Control (DTSC) regulations.
Scheduling Your Cleaning Project
Delays and shutdowns can wreak havoc with your company bottom line. Your fuel tank cleaning project should be scheduled with plenty of forethought to ensure as little disruption to your business operations. Many times this may mean scheduling your project for irregular business hours or when your facility is offline for scheduled maintenance. Schedule your cleaning project with plenty of notice and discuss the requirements of your project in detail with your chosen vendor to make sure that an adequate timetable is provided to make sure your project is completed on time.
Proper maintenance of your equipment and thorough industrial cleaning are an essential part of the manufacturing process. Reduce costs, minimized downtime and protect your environmental surroundings by always choosing a capable vendor to handle your needs.