Hazardous Waste Disposal In Los Angeles
Running a business in the State of California is tough. For all the benefits that the state offers such as great weather, a productive workforce and a commitment to high technology, California companies operate in one of the most difficult regulatory environments in the United States. State laws dealing with the generation, removal, transportation and disposal of hazardous waste are some of the most stringent anywhere. For companies that generate hazardous waste in Southern California including Los Angeles, Orange, Riverside and San Bernardino counties, managing this process has never been more difficult. Here are a few things you things you need to understand while operating here today.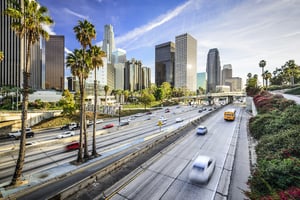 DTSC Enforcement is on the Rise
The Department of Toxic Substances Control (DTSC) is the California regulatory agency in charge of managing the state's hazardous waste program. Code enforcement is a major priority for the DTSC. The DTSC partners with local law enforcement agencies and District Attorneys' offices to investigate hazardous waste violations. Enforcement actions may also begin with an anonymous complaint. This means that any disgruntled former employee or customer can call in a complaint and have an investigation begin. Typically an investigation starts with a surprise inspection. These inspections are typically very thorough and intrusive and can be very scary since they may begin with no warning. If your company is out of compliance they can cause a great disruption to your business operations.
Environmentalists want more regulation and more fines!
Consumer Watchdog an influential consumer advocacy group is not happy with DTSC and many businesses operating in the state. Environmentalists at war with business; What's New? The group is locked in a battle with the regulatory agency over several issues including a Boeing "brownfield" site in Simi Valley and proposed DTSC plans to cut in half the amount of hazardous waste disposed of in the state by 2025. In a Consumer Watchdog report entitled "Golden Wasteland", the group alleges that the DTSC is "falling down on the job." It is their contention that DTSC needs to step up enforcement activities and "greatly" increase fines for serial offenders.
So What?
The questions you may be asking yourself are what does all of this mean, and why should I care? The bottom line is that government regulatory agencies, environmentalists and watchdog groups are all putting pressure on businesses that generate hazardous waste in the State of California to clean up their act. The following industries are all under attack:
Health Care and Pharmaceuticals

Manufacturing

Oil and Gasoline Refineries

Research and Development Facilities

Big Box Retailers

Plating Companies

Automotive Repair
If you have not looked at your operations in the last several years the time has come to call in an expert to evaluate your facilities and look at your operations. A licensed and qualified hazardous waste removal company can save you money and keep you out of regulatory hot water. Look for companies that are registered with the Department of Transportation (DOT), DTSC and Environmental Protection Agency (EPA) to handle the transportation and disposal of your hazardous waste. This could protect you if the state comes a calling. If they haven't inspected in a while, they could be coming for you!