Hurricanes Harvey's pelting rains and 130-mph winds may have stopped in south Texas, but the devastating effects on the environment could last for generations unless they are managed responsibly.
In the immediate aftermath of Hurricane Harvey, at least 60 people were confirmed dead across 11 counties. The Category 4 storm left thousands stranded and destroyed upwards of 40,000 homes. Because of the record-breaking 50-plus inches of rain and flooding, an estimated 500,000 automobiles in Houston alone are undriveable.
Carmageddon
According to The Washington Post, "Harvey's financial toll has drawn comparisons to Hurricanes Katrina and Sandy, but because Houston is larger than New Orleans and the city's storm was more brutal than Sandy, the region's cars appear to have taken a bigger hit. Sandy destroyed about 250,000 vehicles and Katrina claimed about 200,000, according to estimates. Harvey ruined 300,000 to 500,000 cars and perhaps far more, early analysis indicates, leaving as much as $2.7 billion to $4.9 billion worth of automotive damage in its wake, according to Jonathan Smoke, chief economist at Cox Automotive."
While many mainstream news outlets highlight the relatively low number of chemical spills, the environmental impact of cars, refrigerators, air conditioners and other home and business equipment presents an unprecedented environmental challenge. In a panicked move, the Texas Commission on Environmental Quality filed a request to suspend regulations regarding the proper disposal of solid waste materials. The Commission is basically kicking the can down the road by calling for waste to be dumped into Houston's 27 landfills based on five categories, "woody debris, C&D debris, household hazardous waste, electronic waste and 'white goods' such as refrigerators and air conditioners."
If we look at the Katrina fallout, New Orleans was able to recycle about 55 million cubic yards of debris that included 1 million appliances and 150,000 vehicles. The Louisiana city has a population of less than 400,000. Houston has more than 2.3 million residents and all the disposable material that comes with dense population.
Texas Temporarily Changes Environmental Regulations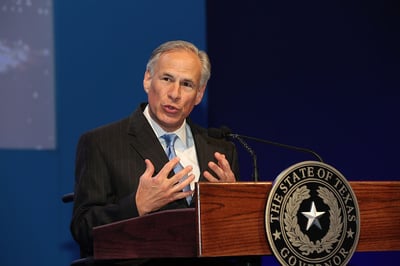 According to reports, Texas Gov. Gregg Abbott swiftly approved the suspension of 19 significant environmental rules and major concerns have been raised that materials will be mismanaged due to the volume and magnitude of the disaster.
A NY Times article cited Texas Campaign of the Environment program director Andrew Dobbs objecting to the governor's decision. "They have suspended more or less every meaningful environmental protection," he said.
While public health concerns may be best served by expedient removal of debris that is prone to mold growth and other human hazards, the state's short-sightedness could result in long-term environmental damage. What is truly unfortunate is that Texas does not need to choose between quick removal to landfills and sustainable recycling. The disaster area has considerable financial resources in place to deal with cleanup in a responsible fashion.
Pres. Trump signed a $15-billion federal relief package in the aftermath of Harvey while non-profits and private donations have tallied tens of millions more. Now it's imperative that Houston officials tailor cleanup efforts toward responsible, lasting solutions by reaching beyond the overwhelmed landfills and resources in the Lone Star State.
Mitigating the Impact of Future Disasters
Natural disasters such as hurricanes Harvey and Irma are heart-wrenching. But they are also becoming more commonplace. In Texas, local and federal emergency personnel were quick and able to respond. But the unfortunate underlying story is that an appropriate debris and waste material recycling plan was not in place. That means millions of cubic tons of unidentified hazardous materials are likely to be buried in the ground.
However, these catastrophes may present an opportunity for environmental leaders to petition municipalities and federal agencies to couple emergency plans with sustainable recycling resources. Debris and waste material needs to be efficiently removed from disaster areas. But where it ends up doesn't need to cause a second disaster.
Featured Image Credit: Photo by: Sgt. Jose Diaz-Ramos | Public Domain
Image Credit: Photo By Lance Cpl. Niles Lee, U.S. Marine Corps | Public Domain
Image Credit: Photo By World Travel & Tourism Council | CC BY via Wikimedia Commons