DuPont Fined $1.275M in Toxic Gas Case
Global chemical conglomerate, DuPont, has been fined $1.275 million following claims by U.S. officials that the chemical dealer failed to prevent toxic releases of hazardous substances that killed at least one person in West Virginia. In addition to the fine, the company is expected to spend about $2.3 million towards settlement of the claims.
Reports from several reliable sources including Fox Business indicate that E.I. du Pont de Nemours and Co arrived at the agreement with the national environmental agency EPA and the Department of Justice. DuPont was charged with 8 counts of alleged releases of harmful levels of hazardous substances, EPA reported. All the releases were carried out from a DuPont facility in Belle, West Virginia between May 2006 and January 2010.
A government statement released during the announcement of the settlement said that several of the releases posed "significant risk to human health." One man, a DuPont worker, died after being exposed to the toxic gases released at the DuPont facility after the company "failed to comply with industry accident prevention procedures," the environmental agency said.
The problems first came to the attention of EPA in January 2010 when plant operators at the facility discovered that more than 2,000 pounds of Methyl Chloride had leaked yet employees were not responding to alarms triggered by the release.
Methyl Chloride can be very dangerous
Methyl Chloride, chemically known as chloromethane, is a compound of chlorine and methane. It is a colorless gas with a faint sweet smell and soluble in water. Low levels of the compound occur naturally in the environment though higher levels may occur at chemical plants where the compound is manufactured or used.
The United States Environmental Agency (EPA) classifies Methyl Chloride as a Group G carcinogen.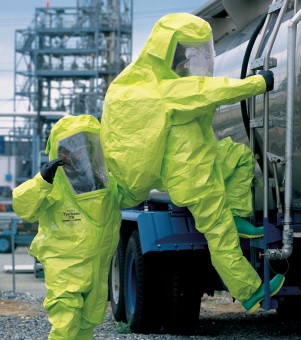 Acute, short term, exposure to high concentrations of chloromethane in animals and particularly humans has been associated with severe neurological disorders. The compound has also been proven to affect blood pressure, heart rate, kidney, and liver in humans. Chronic, long term, complications include liver, spleen, kidney, and central nervous system (CNS) problems. Studies show that inhalation of the chemical may cause reproduction problems in rats with effects including reduced sperm count and testicular lesions. Data on cancer in humans are limited.
In humans, brief exposure to high levels of the chemical may seriously affect the central nervous system even causing a convulsion or a coma. Other effects include blurred vision, dizziness, personality changes, fatigue, confusion, tremors, slurred speech, uncoordinated movements, nausea, and vomiting.
Corrective improvements to cost DuPont $2.276 million
In addition to the $1.275 million fine, DuPont will be spending in excess of two million dollars on corrective action to prevent future releases. Indeed, the company has discovered that it will require a minimum of $2.276 million to complete the required improvements. In a statement, the company revealed that they have already spent more than $7 million towards compliance with EPA orders for corrective measures.
DuPont have since expressed their "deep regret" for the death of their employee and pledged to take tighter controls. "We remain committed to adhering to all regulatory requirements and ensuring the safety of our contractors, employees, and the community in general," said a statement released by the company.
EPA said that earlier inspection records indicated that DuPont had on five occasions allegedly released harmful quantities of hazardous chemicals and failed to report to the agency in a timely manner.