Employee Recognition Is A BigDeal
In the old days, employee recognition meant you got to leave an hour early because you just cut off part of your finger in a meat grinder! Today is a different story.
The need to feel appreciated in one's work has never been more important to current and potential employees than it is today. In fact, in a recent survey conducted by OfficeTeam and the International Association of Administrative Professional (IAAP), 70% of respondents said an organization's recognition program would factor into their decision to accept employment with that firm. Administrative professionals were also asked in the survey, "How likely is it that you would leave your current position, if you did not feel appreciated by your manager?" Two-thirds of respondents said they would "likely" or be "somewhat likely" to leave their current position, if they did not feel appreciated by their manager.
So it seems pretty clear that employee recognition is an important factor for today's professionals, but does recognition translate into any measureable effect in work performance? From the survey of over 549 administrative professionals, 67% of them reported that work performance improved or greatly improved due to the recognition programs their company had in place. Now, imagine if you or your company has no recognition program in place? If employees begin leaving, can you replace them effectively? According to the 2008 Employment Dynamics and Growth Expectations (EDGE) Report, recruiting a new administrative staff member takes 4-5 weeks, on average. Then, you add training and before you know it, the cost of replacing that person has just skyrocketed. So, can you afford to lose that right-hand person for over a month?
Let's Not Do Lunch
The majority of companies, managers and supervisors realize the correlation between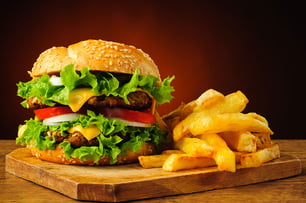 employee recognition efforts and work performance, but does the type of recognition have any discernible impact on employee productivity? The survey results indicated that one-third of support staff felt they did not receive sufficient recognition throughout the year. But how is this possible, if your company has these programs in place? The answer seems to lie in an apparent disconnect between what employees feel is a meaningful recognition of what they do and what management actually provides.
For example, taking an employee to lunch to recognize a job well done may have been a sufficient form of recognition in the past. While they may still appreciate the gesture, they are more likely to consider other forms of recognition more meaningful. Company praise, professional memberships or attendance at professional conferences or seminars have a greater impact on today's employees and will likely yield better results in terms of work performance.
What Support Staff Want vs. What Managers Think You Want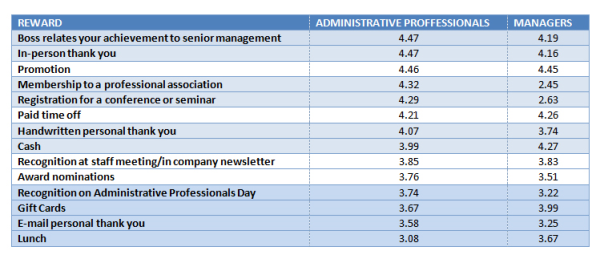 The lunch and membership examples show just how far apart the two levels are. Managers need to pay close attention to what support staff feels is an important recognition for them. A personally delivered hand written thank-you note or a communication of their achievements to upper management goes a lot further than a gift card or even cash.
Praise
This simple method can reap you and your company rewards. Giving simple praise on a consistent basis is a big deal for support staff. Letting them know how important they are to the company's success with statements like, "You are the name and face of our company," or "I wouldn't be where I am today without you," build morale and work production of the individual.
Top Seven Takeaways
1. Don't take your workers for granted.
2. Be specific in your praise.
3. Challenge your support staff.
4. Don't under or overdo it.
5. Tell your own boss.
6. Customize rewards.
7. Remember recognition can be a recruitment tool.
Employee recognition has never been more important in today's workplace. Hiring and keeping invaluable people to help you manage and grow your business is very challenging, especially in a down market. Adding or enhancing your company's recognition program will yield bottom line results and ensure that you keep those valuable employees from leaving.