Many businesses work with dangerous goods that require strict regulation in order to ensure the safety of their employees, property, and the surrounding environment. For facilities that use hazardous materials, which are subject to radioactivity, flammability, or poison, proper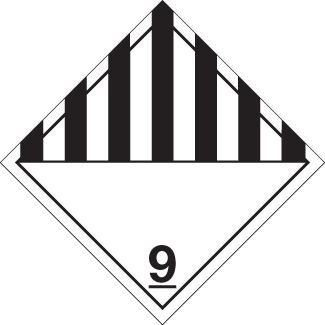 signage must be applied to these goods in order to designate its specific hazard. These range from Class 1: Explosive to Class 8: Corrosive. The final type of dangerous good refers to Class 9 Miscellaneous Hazardous Material.
This oddball category contains all hazardous materials that do not fit one of the classes between 1 and 8. According to the U.S. Department of Transportation, a Class 9 placard indicates any material which has an anesthetic, noxious, or other similar property which could cause extreme annoyance or discomfort to a flight crew member so as to prevent the correct performance of assigned duties.
Materials Included in Class 9 Due To Their Properties
While the following material properties are included in the Class 9 category, the material itself must have the potential to cause extreme annoyance or discomfort.
Anesthetic. That is: a substance that induces insensitivity to pain.
Noxious. That is: harmful, poisonous, or very unpleasant.
Or other similar property.
more specifically, Class 9 hazmats include:
Materials transported by air that could cause extreme annoyance to a flight crew member to the extent that it prevents the crew members from performing their duties;
Hazardous wastes;
Marine pollutants; and
Materials that meet the definition in the Hazardous Materials Regulations (HMRs) for an elevated temperature material or a hazardous substance.
Is A Placard Required for Class 9 Materials
A Class 9 placard is not required for domestic transportation. However, a bulk packaging containing a Class 9 hazardous material must e marked with the appropriate identification number displayed on either a Class 9 placard, an orange panel, or a white square-on-point (i.e., diamond), which is not considered a placard.
The Class 9 Placard is typically used for International transportation. You can still use the placard in the United States for Bulk packaging, however, if you do use a Class 9 placard for this reason the shipment is not subject to additional requirements applicable to shipments that require placards.
Even if an international shipment requires a portion of the transportation route to be carried out in the United States, you do not need a Class 9 placard for the U.S. portion of the route.
How Is Class 9 Waste Disposed Of?
It is important that all hazardous wastes are disposed of properly. The best way to prevent improper waste disposal is to ensure that all unknown hazardous materials are labeled. If a container does not correspond to any of the eight specific hazards yet poses certain dangers, it needs to wear proper Class 9 labels. A certified technician will be able to handle different classes of dangerous waste when it is time for disposal.
How Can a Class 9 Waste Removal Service Help My Business?
Working with a professional hazardous waste removal service ensures that you protect not only the safety of your employees, but also the surrounding environment. Since there are a number of handling procedures that are subject to different types of hazardous material, a certified technician will be able to follow the necessary regulations while upholding federal and state mandates.
Additional Articles: