The party in the desert is over, and state and federal regulators are finally cleaning and going after the top hazardous waste violators after years of abuse and major environmental problems in Southern Nevada. Two recent clean-up efforts and large financial settlements affect land that was set aside by the federal government back in 1941 to aid the war efforts.
First it was the record settlement with Anadarko Petroleum over the Kerr-McGee plant located in Henderson, Nevada that spewed toxic chemicals into Lake Mead, the major water source for Nevada and surrounding Western States. Now their neighbors, TIMET, one of the world's largest titanium manufacturers have agreed to a $13.8 million settlement, a record for one manufacturing plant.
What Happened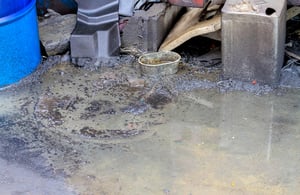 From the Las Vegas Review Journal:
"One of the world's largest titanium manufacturers has agreed to pay a record $13.8 million penalty for producing and dumping banned cancer-causing chemicals at its Henderson factory.
Under a settlement with federal regulators announced Wednesday, Titanium Metals Corporation, or TIMET, also agreed to perform an extensive investigation and cleanup of potential contamination from the unauthorized manufacture and disposal of PCBs at its 108-acre site on Lake Mead Parkway east of U.S. Highway 95.
According to the Department of Justice and the U.S. Environmental Protection Agency, TIMET's penalty is the largest ever imposed for violations of the Toxic Substances Control Act at a single facility.
The corporation will pay another $250,000 for violations related to illegal disposal of hazardous waste water."
The violations stem from an investigation that began almost a decade ago, and has been a known problem in the community.
"The contamination was first discovered almost a decade ago and is already being cleaned up around the 64-year-old industrial operation, just north of a Target shopping center and down the street from a hospital."
"TIMET's violations stem from EPA inspections in 2005, 2006 and 2008 that showed the company had been illegally producing PCBs as a byproduct of its titanium manufacturing process and disposing of the banned chemical in a solid-waste landfill and a trench at the plant.
The company was also accused of illegally dumping acidic, corrosive water into an unapproved waste pond at the facility."
Still Paying The Cost For The War – World War II That Is
This site in Henderson, which houses both the Kerr-McGee facility and the TIMET plant trace its history back to World War II, having been started in 1941 to produce magnesium for the war effort.
"According to the EPA, the company has supplied nearly one-fifth of the world's titanium demand since 1950.
Both TIMET and the old Kerr-McGee plant site are part of the BMI complex, a roughly 5,000-acre tract set aside by the federal government in 1941 for production of magnesium to support the war effort.
Later, portions of the giant magnesium plant and adjacent land were leased out for the production of various chemicals and products containing chemicals.
For years, industrial waste from those operations was regularly disposed of in unlined evaporation ponds or dumped onto the ground or into ditches that ran off the site, practices common and legal at the time."
2014 is already shaping up to be a banner year for environmental cleanup and record fines. Companies large and small are being pursued by federal and state regulators. Local governments are fed up with years of abuse and neglect on the part of corporations, and are taking action like the recent task force created in Los Angeles to speed up the process of shutting down toxic polluters. .
It is important for companies that generate hazardous waste to ensure that you are staying in compliance with government regulations. As we have previously reported, hazardous waste regulators have some of the broadest authority to show up and perform an inspection with "no prior notice given to your facility."
The PARTY'S over! Get the facts and find out what regulators are looking for. Download a copy of our eBook, "The Top 10 Hazardous Waste Violations and How to Avoid Them" today and ensure that you don't end up in the headlines.